About this Event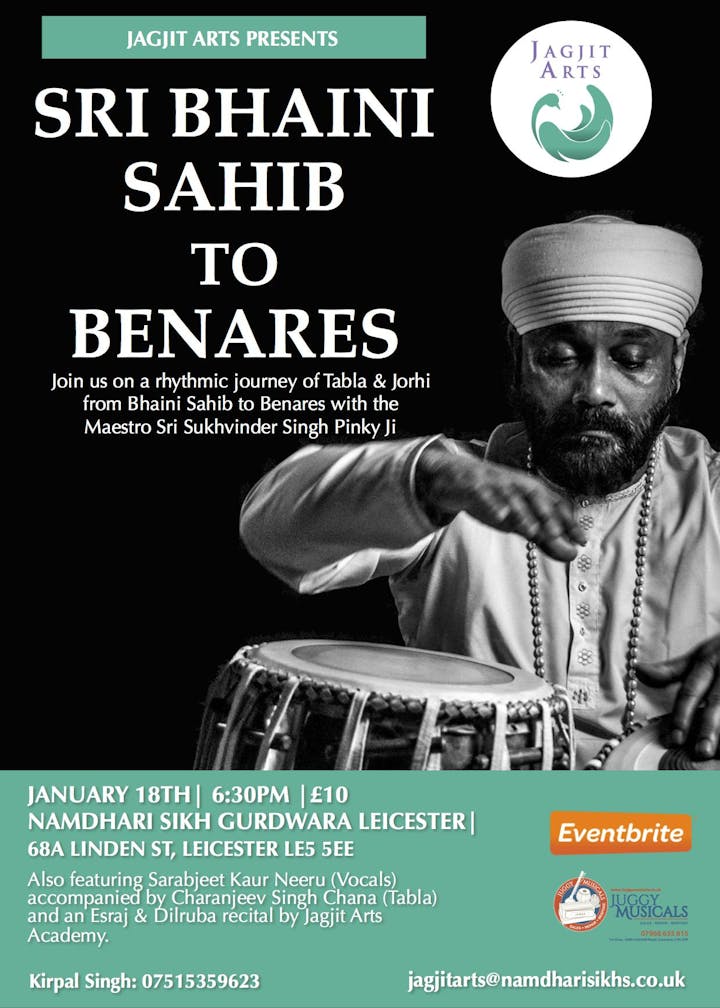 Jagjit Arts is proud to present Sri Bhaini Sahib to Benares.
Join us on a rhythmic journey of Tabla & Jori presented by the world renowned Ustad Sukhvinder Singh Pinky Ji who will be accompanied on Nagma by Leicester's very own Kaviraj Singh Dhadyalla.
Also featuring performances by the melodious Sarabjeet Kaur Neeru (vocal) accompanied by Charanjeev Singh Chana (tabla) and Uday Singh Chana (dilruba).
See how Jagjit Arts is keeping the ancient traditions of North Indian music alive by a short Esraj & Dilruba performance by students of the Jagjit Arts Leicester Academy.
Sukhvinder Singh "Pinky" is one of India's most dynamic percussionists who is recognised worldwide for his unique style of playing, technical prowess and stage presence. As a solo artist Sukhvinder has received wide acclaim and is regarded as an adept performer of both the Punjab and Benares repertoires and has also been a featured soloist with the BBC Philharmonic Orchestra. His Jorhi performances have led to a meteoric rise in respect and appreciation of the rare art of Jorhi playing.
Sarabjeet Kaur Neeru was introduced to music at the age of 5, by her father S. Surmukh Singh. As her family moved to Kenya she would receive her basic training by the renowned musician Ajit Singh Matlashi Ji. A few years later she moved back to India and resumed her training under the guidance of Smt Tripat Kaur Ji. With the blessings of Sri Satguru Jagjit Singh ji, Sarabjeet begun to learn Khayal Gayaki from Sh. Lachman Krishnarao Pandit Ji and also had the privilege of learning Gurbani Kirtan from the revered Ustad Harbhajan Singh Ji.
She has had the honour of performing at many Samellan's and Baithak's in the presence of many stalwart musicians such as Pt Rajan & Sajan Mishra.
As well as being a performing artist, Sarabjeet dedicates her time teaching students ensuring continuation of the legacy of her Gurus.
Jagjit Arts would like to thank Juggy Musicals and Justa & Co Chartered Certified Accountants for their support in sponsoring this event.