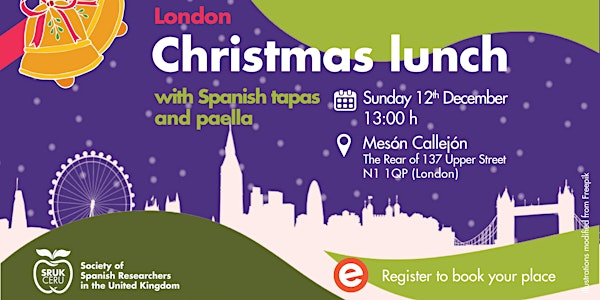 SRUK/CERU London - Christmas lunch 2021
The annual SRUK London Christmas lunch is back! Join us December 14th at Mesón Callejón to eat and dance... ¡Hasta que el cuerpo aguante!
About this event
Christmas is almost here, which means that the SRUK London Christmas lunch is back!
Join us on Sunday 12th December at "Mesón Callejón", where you will be able to feast around risky Padrón peppers, traditional pisto murciano, tasty (veggie and non veggie) paella, and many other Spanish meals! After lunch, we have prepared some music lists to dance and sing along at the same venue (upstairs) -- we will have a private space for us to dance "hasta que el cuerpo aguante"!
Children, partners and friends are also invited so that we can all celebrate Christmas just like at home!
If you want to join us, please register BEFORE DECEMBER 5TH and select your choice of menu:
Mixed tapas (veggie and non-veggie) + Vegetarian paella
Veggie tapas + Vegetarian paella
Mixed tapas (veggie and non-veggie) + Mixed paella (seafood and chicken)
Price: £36.5 + Eventbrite fees.
---
MENU
Starters to share
Pimientos de Padrón (V) (Fried spicy Padron peppers)
Pisto murciano (V) (Roasted aubergine with fried courgette, onion, peppers and tomato sauce)
Patatas bravas (V) (Potatoes with spicy tomato sauce)
Albóndigas de la abuela (Grandma's meatballs)
Pollo a la pimienta (Chicken in creamy pepper sauce)
Croquetas de champiñón (V) (Mushroom croquettes)
Tabla de ibéricos (Assorted Spanish charcuterie) / Tabla de quesos (V) (Selection of Spanish cheeses)
Main course
Paella mixta (Mixed Chicken and Seafood paella) / Paella de verduras (V) (Vegetarian Paella)
Dessert
Tarta de queso asturiana (V) (Asturian cheesecake)
DRINKS NOT INCLUDED
---
COVID safety measures
To minimise the risk of contracting COVID-19, we suggest you take a COVID-19 test the morning before this event. If positive, please stay home to ensure the safety of the attendees.
You can get a free lateral flow test in any pharmacy or order it via the NHS website.
Organiser of SRUK/CERU London - Christmas lunch 2021
Spanish Researchers in the United Kingdom (SRUK/CERU) is an independent and non-profit organisation without any political affiliation. SRUK/CERU was created in July 2011 and officially established in June 2012 (Certified Company House of England and Wales Registry #8160501).
SRUK/CERU was created to promote communication within the community of Spanish Researchers working in the United Kingdom. This association also aims to help closing the gap between Scientists and the general public from British and Spanish societies. Moreover, SRUK/CERU seeks to develop collaborations between this community and Research and Development-related institutions and businesses in Spain and the UK.
SRUK carries out the processing of personal data in accordance with the UK Data Protection Act 1998/General Data Protection Regulation (GDPR) www.ico.org.uk. You can access a copy of the SRUK Data Protection Policy LINK. You can ask us to stop contacting you and remove you from our databases at any time.