Description
SSAFA's Reservist Reception
---

Sponsored by:

Supported by: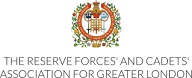 SSAFA the Armed Forces charity's Reservist Reception will provide you and your guests with an excellent opportunity to come together to celebrate the work of the Reservists within your organisation, hear more about the Reservist agenda and discuss the future of the Reservist strategy with influential figures from the sector. You'll be able to hear the views of government, MOD and Industry at one of London's premier Reserve bases.
There will also be a chance to learn more about how SSAFA the Armed Forces charity can help Reservists and their families.
Guests will include senior management, HR professionals and current Reservists from many Employment Recognition Scheme award winning companies, Armed Forces Covenant signatories as well as companies interested in starting to employ Reservists.
Speakers will include
Parliamentary Under Secretary of State and Minister for Defence Veterans, Reserves and Personnel,Mark Lancaster TD MP
Richard Wilton, Greater London Employer Engagement Director for the Reserve Forces and Cadets Association
Speakers from the headline sponsor, Atkins
The evening will begin at 1830 with a drinks and canapé reception and conclude at 2100.
This event has been kindly sponsored by Atkins.
About the venue:
HMS President is a 'stone frigate' or shore establishment of the Royal Naval Reserve, based on the northern bank of the River Thames near Tower Bridge in the London Borough of Tower Hamlets.
This is a fundraising event and all proceeds from ticket sales will go directly to fund SSAFA's charitable services, looking after the Armed Forces and their families.