Market insights, perspectives and practical tips to help you transform strategy, processes, technology and people to drive growth
About this event
Join us for the virtual SSCG Africa Automotive and Manufacturing Forum - Enhancing African Manufacturing and Supply Chain Development live panel discussion on Wednesday, 10 February 2021 between 13:00 - 15:00 BST to gain latest update, perspectives, investment and opportunities across the industries and region.
TOPICS:
African automotive and manufacturing industry landscape
Stimulating industrialisation and local manufacturing industry growth
Financing and investment opportunities in manufacturing: machineries, agri and food processing, FMCG manufacturing, factories, distribution centres, industrial parks.
Strengthening industry value chain and eco-system linkages: Labour market, skills and suppliers
Harnessing digitisation and advanced manufacturing technologies
Industry 4.0 and smart factories
SSCG Management Practice Events bring together leaders, professionals, industry experts, entrepreneurs and influencers to discuss the most important topics in business, leadership, economic, finance, entrepreneurship and the society today.
The webcast is approximately 90 minutes, including a question-and-answer session. Please complete your registration to participate in the event and to receive details on how to join the webcast.
Contact Us to Discuss Sponsorship, Digital Opportunities and more - Gain Unprecedented Exposure to the Auto and Manufacturers, Leaders, Suppliers and Investment Opportunities
This opportunity will allow you to position yourself as a key business leader in this rapidly changing African Automotive industry. Plus, you have guaranteed exposure to a worldwide audience of automotive leaders. You need to be a part of this movement, to showcase your latest innovations and solutions with an industry that is eager to learn.
For enquiries and discuss how you can participate and sponsor the forum, email us at info@sscg-group.com
Why Sponsor?
Senior Automotive Audience: We go above and beyond to deliver a high level audience, ensuring your time is well spent with the key decision-makers
Generate New Leads and Book Meetings: With our b2b networking app, pre-book meetings with our high-level leadership audience, giving you access to hundreds of new business leads
Become a Thought Leader: Lead decision-makers through some of their toughest technology and business model challenges and become their go-to solution provider
What you can expect when you sponsor SSCG Events
Your brand in front of your prospects: We will work with you to get your brand in front of the prospects and clients that can transform your business
Be seen as a thought-leader: With hundreds of industry leaders and experts joining our events, your company can be seen as a thought-leader in the space. Whether that be via a panel session, presentation, interactive workshop and marketing materials.
Showcase your solutions and services: More than ever, industry needs solutions and with our exposure, you can share product brochures, the latest research, and business cards with prospects who need it.
Kickstart sales cycles: Whether that be "cold" prospects or familiar face to face acquaintances, the Networking at a SSCG Events will enable you to set up meetings with industry leaders and accelerate your business development efforts.
More www.sscg-group.com or Twitter @SSCGConsulting and hashtag #SSCGConsulting #SSCGForum #SSCGWebcast #SSCGAutomotive
GDPR COMPLIANCE
By registering to attend our events, you consent for us to hold your personal data and usage of event images inline with General Data Protection Regulation (GDPR) Compliance. We assure you that your data will be kept confidential and only be used to keep you updated of our events activities. For further inquiries, please email info@sscg-group.com.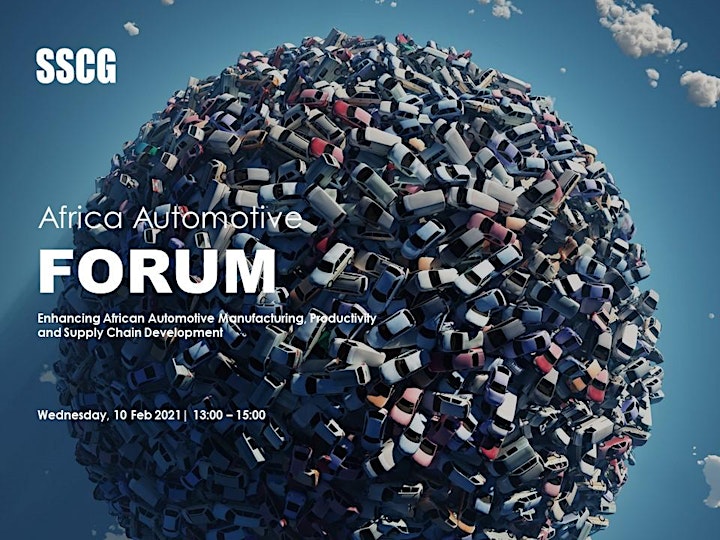 PAST EVENT HIGHLIGHTS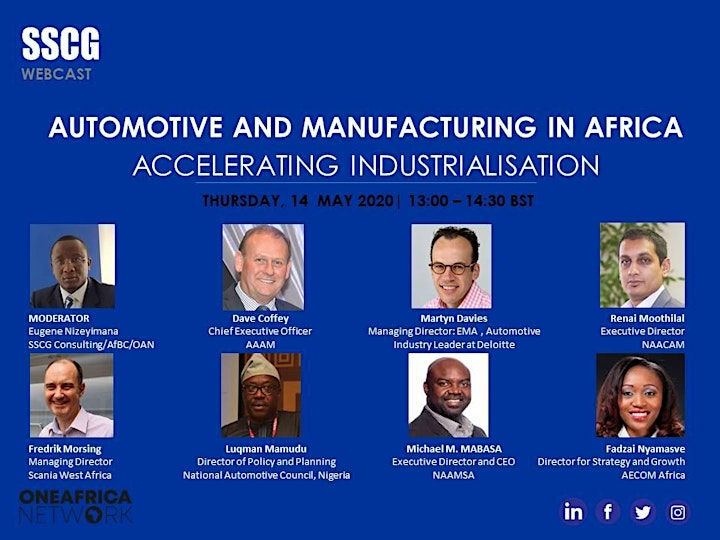 Organiser of SSCG Africa Automotive and Manufacturing (A&M) Forum