Market insights, perspectives and practical tips to help you transform strategy, processes, technology and people to drive growth
About this event
Join us for SSCG Agribusiness Forum live panel discussion on Enhancing Agro-industries and Food Production on Wednesday, 23 September 2020 between 13:00 - 14:30 BST to gain latest update, perspectives, strategies and practical best practices.
TOPICS:
Agro Industries development in Africa
Scaling up agriculture as a driver of economic transformation
Value chain addition: Food production, processing and farming systems
Increasing agricultural production and growth: Investment, funding, agri technologies and better functioning of markets
Reducing food waste, agri business risks and enhance resilience
SPEAKERS
Lucy Akua Kyerede Quainoo - Strategic Advisor at African Council for Organic and Sustainable Agriculture
Chiji Ojukwu - Managing Director at Africa Projects Development Centre (APDC)
Daniel Njiwa - Head, Regional Food Trade at Alliance for a Green Revolution in Africa (AGRA)
Quentin Rukingama - Managing Partner at JBQ Africa - Impactful Support in Agribusiness
Michiel Timmerman - Founder & Managing Partner at Mbuyu Capital Partners
SSCG Management Practice Events bring together leaders, professionals, industry experts, entrepreneurs and influencers to discuss the most important topics in business, leadership, economic, finance, entrepreneurship and the society today.
The webcast is approximately 90 minutes, including a question-and-answer session. Please complete your registration to participate in the event and to receive details on how to join the webcast.
More www.sscg-group.com or Twitter @SSCGConsulting and hashtag #SSCGConsulting #SSCGForum #SSCGWebcast #SSCGAgribusiness
GDPR COMPLIANCE
By registering to attend our events, you consent for us to hold your personal data and usage of event images inline with General Data Protection Regulation (GDPR) Compliance. We assure you that your data will be kept confidential and only be used to keep you updated of our events activities. For further inquiries, please email info@sscg-group.com.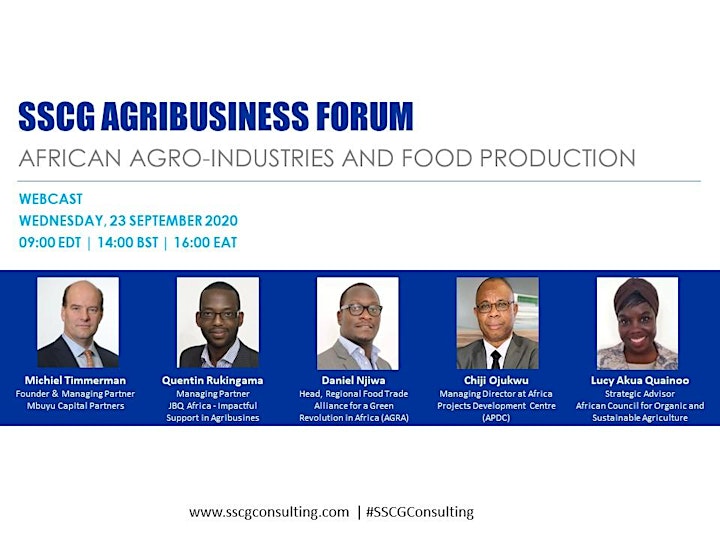 Organiser of SSCG Agribusiness Forum - African Agro-industries and Food Production