Market insights, perspectives and practical tips to help you transform strategy, processes, technology and people to drive growth
About this event
Join us for SSCG Webcast: Automotive and Manufacturing in Africa - Accelerating Industrialisation live online panel discussion on Thursday, 14 May 2020 between 13:00 - 14:30 BST to gain latest update, perspectives and opportunities across the industries and region.
TOPICS:
African automotive and manufacturing industry landscape: Potential opportunities and challenges.
Key drivers accelerating industrialisation and automotive manufacturing industry growth.
COVID-19: How deglobalisation and glocalisation will reshape African manufacturing and supply chain?
Unlocking the potential of African lucrative automotive market: Dealership model and limiting second hand vehicles.
Strengthening industry value chain and eco-system linkages: Labour market, skills, suppliers and infrastructure.
Harnessing industry 4.0 and advanced manufacturing technologies.
Is Africa ready for Electric Vehicle (EV) and auto digitalisation for connected vehicles?
Moderator: Eugene Nizeyimana - CEO and Lead for Automotive, SSCG Consulting, Chair/President of African Business Chamber (AfBC) and Chair of One Africa Network (OAN)
SPEAKERS
Martyn Davies - Managing Director: Emerging Markets & Africa , Automotive Industry Leader at Deloitte
Michael M. MABASA - Executive Director and CEO, National Association of Automobile Manufacturers of South Africa (NAAMSA) tbc
Fadzai Nyamasve - Director for Strategy and Growth , AECOM Africa
Fredrik Morsing - Managing Director at Scania West Africa
Dave Coffey - Chief Executive Officer at African Association of Automotive Manufacturers (AAAM)
Luqman Mamudu - CEO of Transtech Industrial Consulting and Director of Policy and Planning at the National Automotive Council, Nigeria
Renai Moothilal - Executive Director, National Association of Automotive Component and Allied Manufacturers (NAACAM) (tbc)
Roberto Echandi - Investment Policy Global Lead of the Investment Climate Unit, Trade & Competitiveness at the International Finance Corporation (IFC)/World Bank
SSCG Management Practice Events bring together leaders, professionals, industry experts, entrepreneurs and influencers to discuss the most important topics in business, leadership, economic, finance, entrepreneurship and the society today.
The webcast is approximately 90 minutes, including a question-and-answer session. Please complete your registration to participate in the event and to receive details on how to join the webcast.
More www.sscg-group.com or Twitter @SSCG_Group and hashtag #SSCGConsulting #SSCGForum #SSCGWebcast
GDPR COMPLIANCE
By registering to attend our events, you consent for us to hold your personal data and usage of event images inline with General Data Protection Regulation (GDPR) Compliance. We assure you that your data will be kept confidential and only be used to keep you updated of our events activities. For further inquiries, please email info@sscg-group.com.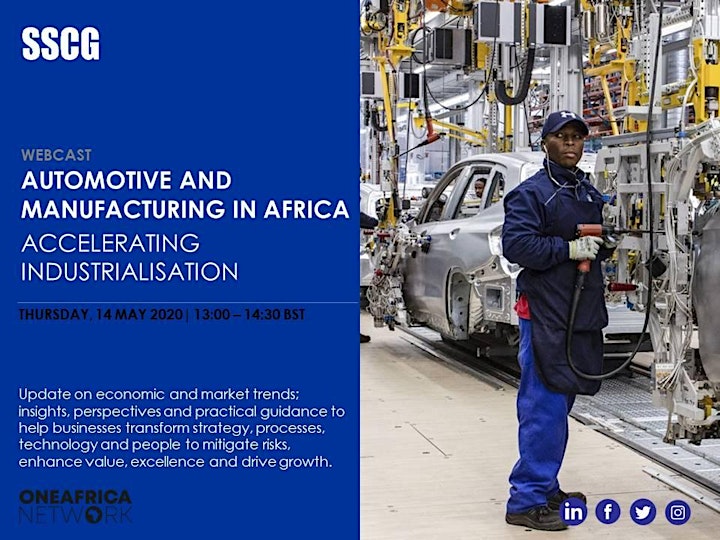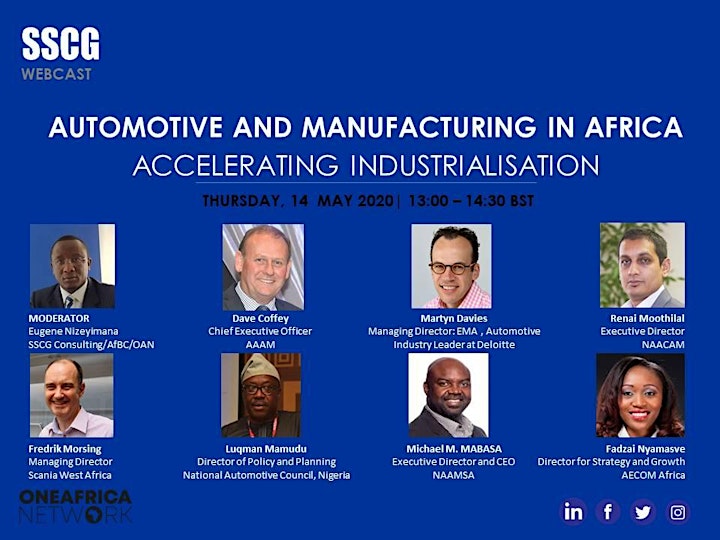 Organiser of SSCG Webcast: Automotive and Manufacturing in Africa