SSIUK Lecture Series: "Revelation in Tibetan Buddhism : The Terma Tradition...
Description
PHOTO: Yarlung Valley, Tibet, Doug Bruns 2013
Date and Time: 8 December, 6:30 pm- 8pm
Venue: Lekdanling, Unit B, 14 Collent Street, Hackney, London E9 6SG
Padmasambhava also called " Guru Rinpoche " born miraculously in the 8th century was fully enlightened and is considered the father of Tibetan Buddhism. His prophesized of a future age when spirituality would wane. When asked by one of his close disciples when is the beginning of Dharma-ending age, Guru Rinpoche replied;
When the iron bird flies and the horses run on wheels, the Tibetan people will be scattered like ants across the world, and the Dharma will come to the land of the red men. ( The West) )
Anticipating the degeneration of the pure teachings of the Buddha . Guru Rinpoche hid TERMA also referred to, as "hidden treasures" and prophecized the exact location and time they would be revealed.
These extraordinary Terma teachings have served the function of refreshing, and reinvigorating the Vajrayana traditions and they continue to be revealed today.
The texts of mystical revelation and revealed to visionaries are principally of two types. Earth Termas including sacred physical objects, and mind Termas including those revealed in extraordinary dreams. The extraordinary places in Tibet where Padmasambhava practiced with his consort Yeshe Tsogyal often sites where Termas were hidden are considered amongst the most sacred pilgrimage places in Tibet.
Michael Katz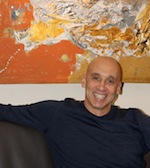 Michael Katz has a doctoral degree in psychology from New York University. He is a long time student of Tibetan Buddhism and has studied with many of the great masters of this age.
He is the co-author and editor of the book " Dream Yoga and the Practice of atural Light " with Chogyal Namkhai Norbu . He is also the author of the book "Tibetan Dream Yoga the Royal Road to Enlightenment " as well as the novel " The White Dolphin ."
Michael a Dzogchen Community SMS meditation instructor was authorized to teach dream yoga and meditation by Chogyal Namkhai Norbu . He has subsequently taught dream yoga and meditation for two decades in more than 30 countries internationally as well as Harvard University, Amherst College, Tibet House and other institutions and organizations.
He was featured in the discovery channel's program "The Power of Dreams " and the first "Gateways of the Mind " conference in London, as well as a documentary movie called "Tamara's Sacred Journey" after leading a group to sacred caves in Tibet in 2010.