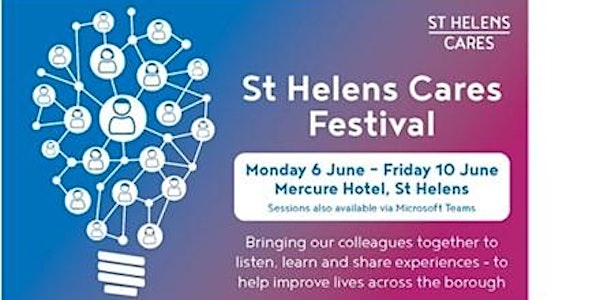 St Helens Cares Festival - Supporting Mental Health and Wellbeing
Location
Hotel Mercure St Helens
Linkway West
St Helens
WA10 1NG
United Kingdom
St Helens Cares are excited to invite you to the Supporting mental health and wellbeing in St Helens.
About this event
Is this festival for me?
• Do you work within Health or social care in St Helens Borough?
• Do you work in the voluntary community sector within St Helens Borough?
• Do you work within the NHS, local authority, CCG or commissioned services within St Helens Borough?
• Do you work in any of the St Helens Cares Partners organisations?
If you answered YES to any of the above this is the event for you!
What is it all about? This is a collaborative event across St Helens Borough, we hope to address the issues around helping our community to improve Mental Wellbeing and tackling Mental Ill Health.
Agenda: (this may be subject to change)
• Introduction/open for the day – Ruth Du Plessis, Director of Public Health
• Therapeutic Intervention- Think Wellbeing
• Introduction to Mental Wellbeing-Louise Edwards, Executive Director of Strategy for Merseycare - What is the vision and aim for St Helens and what it all means for the workforce
• Vital Volunteers - Sally Yeoman -Learn about the role of the Voluntary and Community sector and the innovative and unconventional ways we can work together
• Suicide and Self Harm-Dr Laura Pogue -A spotlight on System led partnerships in tackling our priorities
• The Wellbeing Logic Model-Hannah Towler-Lord, Clinical Network Manager NHS & NHSI - A spotlight on the Cheshire and Merseyside Integrated Care Board Children and Young People Mental Health and Emotional Wellbeing Logic Model
• Meet the Leader – Mark Palethorpe- Executive Director of Integrated Health and Care -An opportunity to meet, learn and ask questions!
• Population Health – Joe Rafferty Chief Executive and Beatrice Fraenkel, Chair Mersey Care NHS Foundation Trust
• Aiming For Zero- Zero Suicide Alliance-Zero Suicide Awareness-A practical session of zero suicide awareness training
• 'Wellbeing Wonder Drug' Active Session- Gemma Ireland, Sports Development - Putting into practise the wonder drug techniques!
• Interactive Workshops:
1. Creating Capacity-Annie Marie Lawrenson, Team Leader Halton and St Helens Voluntary and Community Action
An interactive discussion-how can the Voluntary and Community sectors be involved in your work?
2. Support for the Supporters-TBC
Prevention and Reduction of Self Harm and Suicide-an interactive discussion around what is available? who is involved? how to connect when supporting those most vulnerable?
3. Applying the Logic Model- Suzanne Rimmer, Assistant Director Children's Health (Integrated Commissioning) NHS St Helens CCG
An interactive discussion-how can we achieve the Logic Model Outcomes in St Helens? Have your say!
If you have any questions, get in touch!
Contact Communications.ccg@sthelensccg.nhs.uk