Location
Parish Church of St Mary the Virgin, Prestwich
Church Lane
Prestwich
M25 1AN
United Kingdom
Listen to Alan tell you the stories of the people associated with this ancient burial ground.
About this event
"Every burial space is a unique archive, documenting the history of our communities and our families. They are places in which identities are constructed, and widespread social changes marked. "
Tickets are FREE all we ask is a donation - either in cash or online at donate.prestwich.org.uk - if you have already donated just let us know, or just feel free to donate again !
The Rectory of St Mary's was first mentioned in the 13th Century, and the churchyard's circular boundary wall suggests a much older date for this site.
On this Tour you can listen to the stories behind some of the headstones and memorials contained in St Mary's churchyard. Stories of poetry, artists, romance and murder, plus more besides...
early examples of female stone masonry,
a Waterloo veteran,
The Manchester Botanists,
a Victorian Engineer,
the inventor of the electro-magnet,
Queen Victoria's Canon Birch,
Free trade merchants from around the World,
Greek community burials,
Lancashire Asylum burials,
memorials and burials from two world wars.
If you have a particular interest let Alan know before hand.
Read more about the People and Places of Prestwich at history.prestwich.org.uk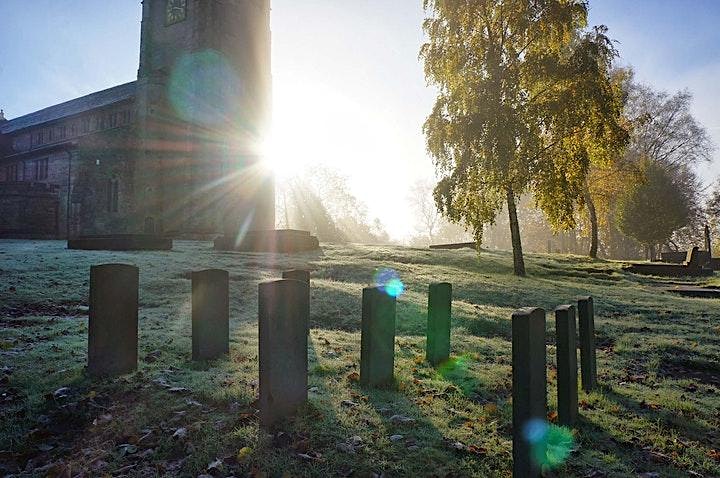 The graveyard is old, slippy & trippy.
Entrance to the churchyard is at your own risk.
Stones are especially slippy when damp.
Some stones are off the main pathways. Bring sensible footwear.
If the weather is particularly bad the event may be cancelled.
Toilet access is provided.
Well behaved dogs are allowed on a lead.
Parking is usually available on church lane, please park considerately.
Refreshments will be available for purchase at the Church Inn, or any one of the local cafes & bars in Prestwich, which is just a 5 minute walk away.
Unfortunately this tour is not wheelchair friendly,If you'd like to request a limited access tour for wheelchairs etc(keeping to the top churchyard) please get in touch, and if demand is sufficient we will try and schedule an event.
Some stories may have violent content, you will be warned, so you can wander off if you have young children.
Every penny of every donation goes towards St Mary's CAG, whose volunteer members plant bulbs, deploy poppies, pick litter, cut brambles, and perform minor repairs to graves and paths. But when we need heavy lifting, or work completed to modern safety standards (e.g. stone masons etc) we pay to get the professionals in. CAG meet on Tuesdays 9am, and the second Saturday of the month, or if you wish to help from afar you can visit donate.prestwich.org.uk