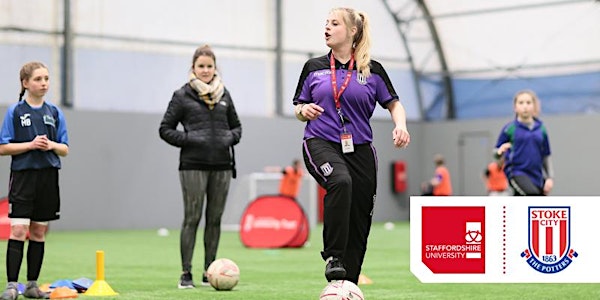 Staffordshire University & Stoke City Community Trust Education Partnership
Location
Staffordshire University
College Rd
Stoke-on-Trent
ST4 2DE
United Kingdom
Staffordshire University and Stoke City Community Trust would like to invite you to their educational partnership launch event.
About this event
Staffordshire University have partnered with Stoke City Community trust to launch a new foundation degree, complete with a player pathway for both male and female players. As part of this partnership, the University will deliver education in the form of an FdSc Coaching in the Community (Football) course, whilst Stoke City FC will provide work based learning elements of the course (E.G Placement, work experience etc). It is designed to accommodate those of you that have an ambition to further develop your knowledge, understanding, skills and experience of community coaching, through innovative and engaging teaching, learning and assessment. Your experiences at the club supporting the delivery of community-based sport initiatives, coupled with your learning and development at university, will provide the necessary theoretical underpinning and practical competencies for you to hopefully gain employment as a coach within a sports club/organisation and the wider industry, both in the UK and internationally.
Alongside the course Stoke City FC are offering an opportunity for footballers to have a second chance opportunity at a professional career by representing the club in the EFL player pathway team. We know that some players slip through the net and that there are players out there that have not been given the opportunity to maximise their true potential. We also know that some players are late developers both physically and mentally and these are the players who this player pathway provides an opportunity for.
Participants selected via trial for the player pathway route, will be coached by our team of UEFA A and B qualified coaches. The coaches have relevant experience of working in a professional environment and focusing on the development of individual performers.
The facilities at Stoke City are what you would expect of a professional football club, whilst Staffordshire University have state of the art learning and research facilities, such as specialist laboratories for biomechanics, physiology and strength and conditioning, sports therapy clinics, consultation rooms for aspiring psychologists, and the more traditional sports hall, sports fields and 3G Astroturf used to apply classroom based learning. Our aim is to identify and develop talented performers who meet the high standards of our professional football club and possibly have the potential to be a professional here at Stoke City, or other suitable professional or semi-professional clubs. Women have a direct route into the Stoke City Women's first team that has ambitions to play in the Women's Super League.
The course though, is for everyone! It is not a mandatory requirement to represent the Stoke City FC player pathway team and for the more recreational player we have the opportunity to represent the University team in the British University and College leagues (BUCS).
This course provides a platform for you to complete a one year top up to a full honours degree in a relevant discipline at Staffordshire University.
We are in a fortunate position to offer this unique opportunity that maximises the playing potential of footballers, whilst simultaneously enabling them to study for an undergraduate degree within a world-class university. So please come and join us for our partnership launch of this innovative course and opportunity to kick start your career in football.
Links to course information...
Course Information - https://www.staffs.ac.uk/course/coaching-community-football-fdsc
Player Pathway Information - https://www.stokecityfc.com/community/education-learning/player-pathway/
Full list of Staffordshire University Course Profile -https://www.staffs.ac.uk/courses/subjects/sport-and-exercise