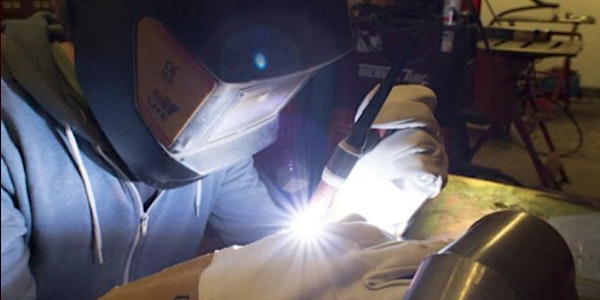 Stainless Steel Welding & Finishing for Artists (Sat & Sun 30 April -1 May)
This two day course is an exciting opportunity to work with stainless steel. You will develop a small scale project or sculpture.
About this event
Stainless steel can be welded and machined like mild steel but has the benefit of not corroding in most environments.
This course will give you the opportunity to manipulate the material with a variety of processes including Tig and Mig welding, drilling, grinding and plasma cutting. This course will identify and demonstrate finishing processes. The different varieties of the material and its uses will also be covered.
During the 2 days you can experiment or develop a small project or sculpture. So if you have something in mind that you want to do please bring a model or drawing!
Grinding and safe workshop practice will be covered.
It is essential to wear old clothes and strong footwear.
Basic materials are included.
Course cost: £250
Course date: Saturday 30th April & Sunday 1st May 2022
Course times: 10am-1pm & 2pm-4pm
Number of places available: 6
Course Tutor: Ben Lee (CSM, UCL)
FAQs
Is there parking available?
There is free parking available on site.
Is my ticket refundable?
Refunds for courses are not generally offered unless they are requested at least three weeks before the start of the course or in exceptional circumstances.
Please note: We reserve the right to change our tutors from those advertised. This happens rarely, but if it does, we are unable to refund fees due to this. Our tutors may have different teaching styles; however we guarantee a consistent quality of teaching in all our courses.
Organiser of Stainless Steel Welding & Finishing for Artists (Sat & Sun 30 April -1 May)
London Sculpture Workshop is an independent sculpture studio in Woolwich, South East London, located within Thames Side Studios, offering exceptional facilities for artists and those interested in making three-dimensional work.
Our short course programme covers a wide variety of technical and skill-based processes, taught by practicing artists in superbly equipped workshops. We teach a range of skills including welding, casting, mould making, metal and wood work, ceramics and hot metal practices.
London Sculpture Workshop is a not-for-profit, community interested company, established in 2012 by artists Giles Corby and Jessica Mello, trained at Royal College of Art and Slade. LSW has partnered with a number of prestigious organisations including; The British museum, The Crafts Council, CRISIS, The Architecture Association and Oxford Brooke's University. In 2013 and 2014 LSW was awarded the Chelsea Arts Club Trust 'Artist Run Space Award' and awarded a grant for our work from the Mayor of London in 2016.
Courses available to book throughout the year.
More information here: http://londonsculptureworkshop.org/