Location
Martinez Members Cocktail Lounge
49 Greek Street
London
W1D 4EG
United Kingdom
At Stakd, our industry leading speakers will offer valuable insights into how your business can create outstanding digital experiences.
About this event
The shifting digital landscape creates novel marketing challenges. New and innovative choices offered by cloud technologies can play a key role in the digital transformation of your business and in solving your marketing challenges.
We'll take a look at what's new, what's trending and what has the best potential for biggest impact on your customer experience.
We'll explore how:
Customer journey trends have changed as a result of Covid.
The latest changes in CX design can create world class experiences.
Composable technology can revolutionise your customer and operational engagement.
The new breed of ecommerce tools meet the demands of modern-day customers.
Brought to you by web technology agency, Quba.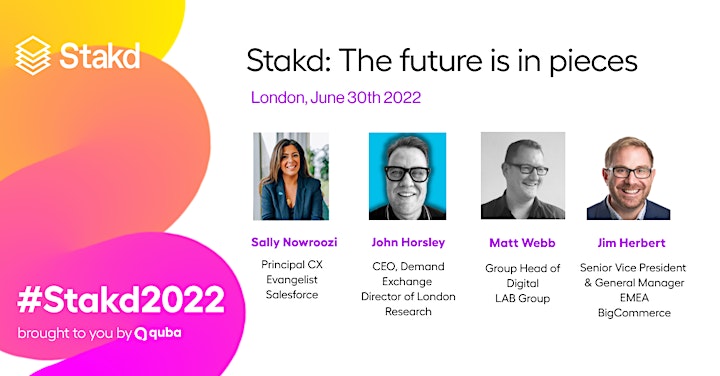 Who will benefit from attending Stakd?
Stakd is an invitation-only event, exclusively for Brand side professionals only (no agencies). If you have a role within marketing and digital, and are looking to drive your business's digital strategy forward, enhance customer experiences and explore key trends that look likely to shape customer engagement in the future, then this event is for you.
Where?
Stakd will take place at Martinez Members Cocktail Lounge.
Conveniently located in the heart of Soho, Martinez is an effortlessly stylish private members club. Situated at 49 Greek Street, the building is of great historical significance as the last remaining of the original 1736 development.
Agenda:
2:00 pm - 2:30pm: Registration, tea, coffee & networking
2:30 pm - 5:00 pm: Speakers
5:00 pm - 6:00 pm: Drinks and networking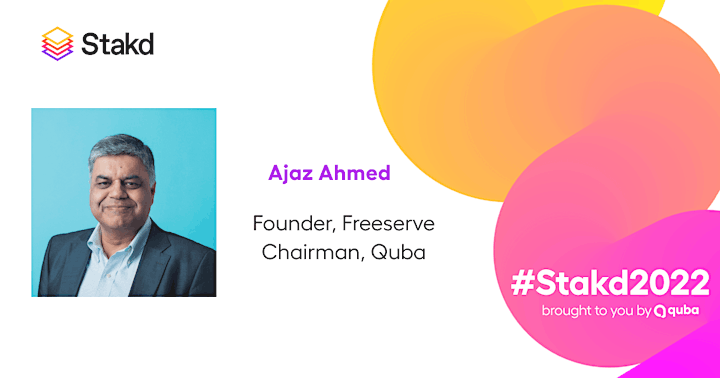 Ajaz Ahmed BEM is the Chairman of Quba and is an entrepreneur known for being the founder of Freeserve, the UK's first Billion-Pound internet company.
Speaker 1: John Horsley - CEO, Demand Exchange and Director of London Research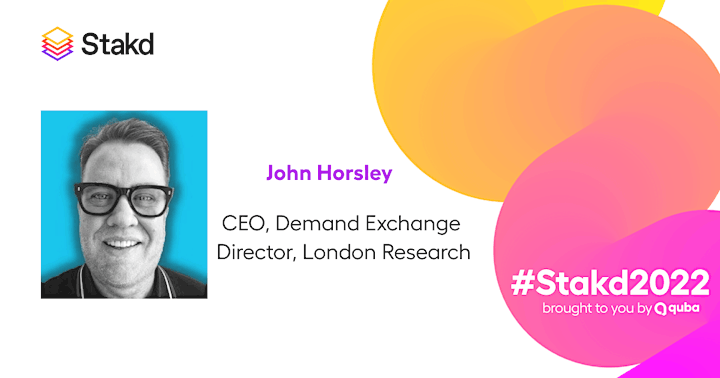 The ever evolving B2B customer journey
In his talk, John will examine how the customer journey and sales process have evolved and continues to do so after the last two years of disruption and change. He will set the scene for Stakd by exploring customer journey trends pre- and post Covid. He will also look at how the buying decision making process has changed almost across the board and how to cut through in a world with overwhelming amounts of information everywhere. John will also talk about the increased need for tech that can rapidly transform the enterprise to cater for the new customer journey and enable it to gain the competitive advantage.
Bio info
With over 25 years' experience in the marketing industry, John has witnessed the industry transform from the inception of the internet to today's bustling marketplace.
John is highly influential in the world of marketing and regularly judges both marketing and technology awards. Both the British Interactive Media Association and Drum magazine have ranked John as one of the top 100 people in the UK's digital industry, while business magazine Fast Company listed John in their top 50 most influential people on the web.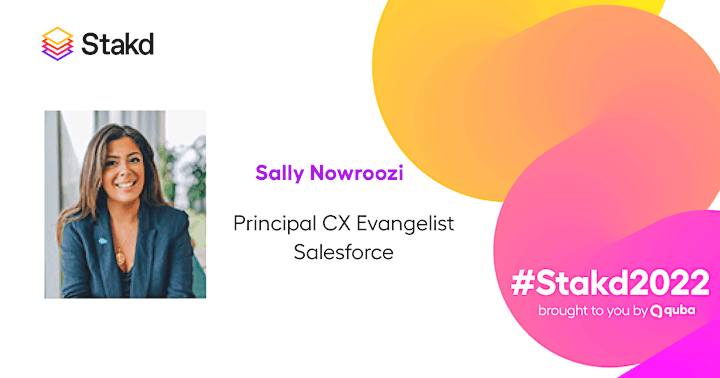 Joyism - How Play is Shaping the Future of Experiences
As a Principal CX Evangelist at Salesforce, Sally generates advocacy and enthusiasm for CX and how it can empower people and businesses. She focuses on futurology and strategic foresight to influence and inspire applications of technology. During her time at Salesforce, she has consulted with enterprise companies across EMEA on the future of their customer experience and has driven the development of digital transformation strategies and CX design across multiple industries. Having spoken at many global conferences such as Dreamforce, she is a thought leader on what it takes to create world-class experiences.
Bio info
Sally has been recognised as the "Inspiring Ambassador' of the year at MENA Women in Awards 2022. As an ambassador for women in STEM, she's passionate about creating a change and is a Women of MENA in Tech Ambassador, enthusing young people and inspiring the next generation of STEM professionals.
Speaker 3: Matt Webb - Group Head of Digital, LAB Group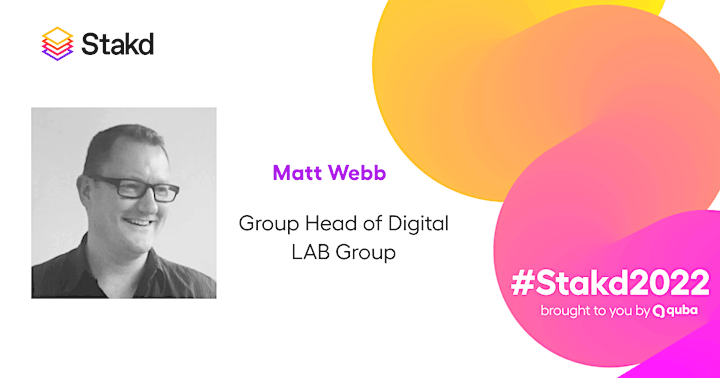 The composable technology opportunity
What is it? Why now? Why does it matter to everyone?
5 years ago transforming your digital used to mean "Choose a new CMS (DXP) that matched as many of your requirements as possible then bolt everything to it, spend 18 months building it, and a further 2 years trying to match your original goals!".
Now - choose what you want your customer experience to be, together with your business and operational requirements and work from there.
No one tool is prioritised over the other. You can focus on business goals, and customer experience.
This talk will cover:
What technical transformation is - and what it is not
Composable and MACH technology
As well as what and who is impacted by this new generation of interoperability
Bio info
Matt Webb is a technology lead, with over 20 years' experience at global Chief Technology Officer level. He has helped many leading Blue Chip brands translate tech capabilities into business benefits.
He has been recognised as a BIMA 100 Tech Trailblazer and is an Ambassador at MACH Alliance – a not-for-profit industry body that advocates for open and best-of-breed enterprise technology ecosystems.
Matt has built, integrated and led tech teams all over the world on projects including everything from global enterprise content management and ecommerce to AI. He has spoken and presented at many major events all over the world and is passionate about being a maker and maker culture.
Speaker 4: Jim Herbert - Senior Vice President & General Manager EMEA, BigCommerce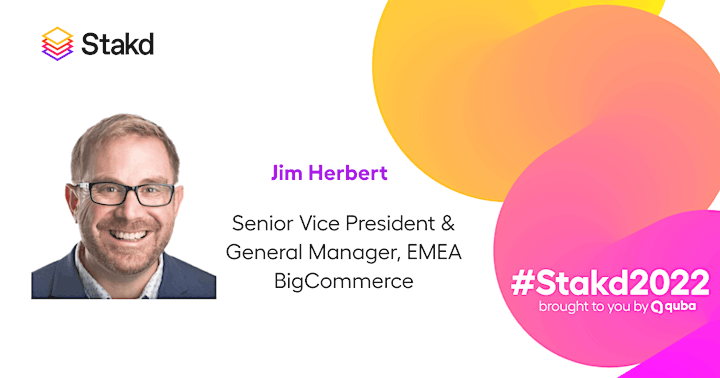 Headless ecommerce and the future of buying experiences
In just the last decade, the ecommerce world has experienced tremendous change: the explosion of mobile commerce, the birth of social commerce, the market domination of ecommerce giant Amazon — not to mention ever-shifting consumer behaviors and expectations. The question now is how can online retailers keep up with new trends and quickly respond to technological change? And how can ecommerce platforms meet the demands of the modern-day customer?
Enter headless commerce, the ability to integrate with a content management system in addition to the logistical aspect gives us the best of both worlds. BigCommerce has emerged as a leader in headless commerce, allowing brands to drive their ecommerce experiences by merging enterprise functionality, market-leading performance, and an open architecture and app ecosystem. Ultimately, BigCommerce allows businesses to increase online sales with around 80% less time, cost, and complexity than on-premise software. Clients include Ted Baker, Skull Candy, Molton Brown and more.
Bio info
Jim is the Vice President and General Manager EMEA at BigCommerce, with more than 20 years of experience in digital strategy, eCommerce and the tech industry.
Technology has always been his passion and since studying Computer Science at university back in the early 90's, he has since taken on a variety of roles within the industry - as well as running his own eCommerce agency until 2015.
BigCommerce is a leading Open SaaS ecommerce platform for fast-growing and established brands.
Please find Quba's Privacy Policy here.