Event Information
Location
The Pearce Institute
Mary Barbour Conference Suite
840-860 Govan Road
Glasgow, Scotland G51 3UU
Description
Join the Conversation
Are you growing, cooking, providing or sharing food with your community?

Are you already working to promote dignity in the way people access and enjoy food?

Do you want to learn more about what other community initiatives are doing to ensure everyone can access food with dignity?
Please join the conversation. We will hear about practical steps communities are taking to place dignity at the heart of community food provision, and we will discuss what else is needed to make sure everyone in Scotland is able to access food with dignity.



Context
In 2016, the Independent Working Group on Food Poverty published a report entitled 'Dignity: Ending Hunger Together in Scotland'. There is now strong agreement across government that:
Emergency food aid is not a long term or dignified solution to food insecurity.

We need to reduce and remove the need for foodbanks in the lifetime of the current parliament.

The response to food insecurity must involve people experiencing food insecurity to find more dignified solutions.
Nourish Scotland and the Poverty Truth Commission have been working together this year to explore the practical steps the community food sector can take to promote dignified access to food. We've been working closely with staff, volunteers and those taking part in community food initiatives, asking:
How can emergency food providers transition away from providing food aid as a primary response?

How can community organisations build and support the community infrastructure needed for everyone to have access to good quality, nutritious food?

What else is needed?
You can read more about The Dignity Project here.
Stakeholders Event
On the 22nd of August, we will share what we've learned so far and invite your views on the practical tools, guidance and recommendations needed for the future.
Please join us to hear from Martin Johnstone, chair of the Independent Working Group on Food Poverty, consider what dignified food provision means in practice and learn from some of the transformative community food models already working across Scotland. We'll also discuss how we can take this work forward: How can the community food sector continue to link up, scale up, speak up and play a part in responding to food insecurity with dignity over the coming years?
Who should attend?
This event is for anyone involved in community food initiatives - all staff, volunteers and participants – to join the conversation about dignity in community food provision in Scotland.
When and where?

Teas and coffees will be served from 10:00. We'll start at 10:30 promptly.

A light vegetarian lunch will be provided.
Govan Cross Subway Station and bus links are within walking distance of the Pearce Institute. There is also plenty of parking onsite for cars.

Please feel free to email Chelsea (chelsea@nourishscotland.org.uk) with any questions.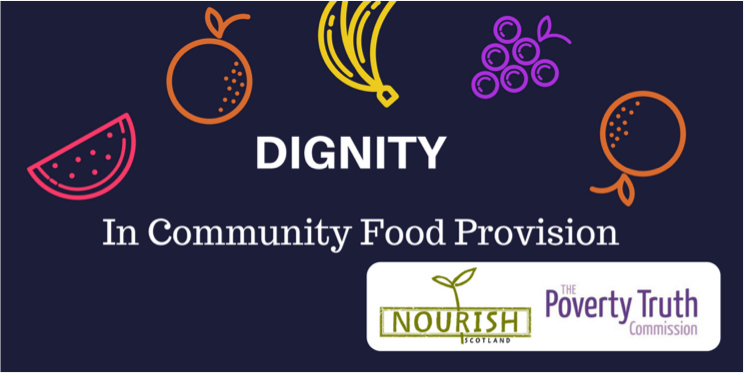 The Dignity Project is kindly supported by the Fair Food Transformation Fund of the Scottish Government.
Date and Time
Location
The Pearce Institute
Mary Barbour Conference Suite
840-860 Govan Road
Glasgow, Scotland G51 3UU