Description
Paddle boarding in London on the Thames! Join us for a unique experience presenting a fun challenge to those new to stand up paddle boarding and a brilliant marathon challenge for those more experienced. Either way it's going to be a day to remember and give you a unique perspective of London!
This is the 4th year of the event created by Waves for Change and supported by the Laureus Sport for Good Foundation. All profits of the event are split equally between the two charities, both using sport to change young people's lives for the long term.
There are two course options – Challenge and Marathon.
Challenge

Starting 2pm at Kew Bridge and finishing back there, the Challenge course takes you ~8mi up stream to Richmond and back. This gives you a unique perspective on London from the river. You will pass Kew Gardens and Syon Park.
The Challenge event is indeed challenging and so we encourage Challenge participants to either donate £50 or set up a sponsorship page and try to raise over £100.
Marathon
Starting at 8am this is a point to point route ~20mi from Shepperton joining the Challengers at Richmond and finishing at Kew Bridge. This is a real challenge and an experience you will never forget. You will pass fascinating sites from Hampton Court Palace through to Kew Gardens, giving you a unique perspective and sense of London's iconic river.
We ask Marathon participants to raise over £350 for this great challenge.
Naish One Nisco Racing
For those of you who would like an extra challenege and would like to test your paddleboarding skills competitively, Naish will be running a paddleboard race at Kew at 17:00. You can sign up for this here too!
This is a short course sprinting race with 10-12 participants per race, each race taking less than a couple of minutes. It is a fun, light hearted race open to all - the more the merrier. A great way to cap off your day on the water and test out your paddleboard skills!
Essential SUP experience
All participants in both the Mass Paddle Challenge and Marathon must have experience on stand up paddle boards on the tidal Thames with Active360, as required by the Port of London Authority. This is to ensure all participants have the correct knowledge and understanding about the tidal currents and particular hazards on the stretch of the River where the event will take place. Active360 will be running training sessions for beginners, as well as for experienced paddlers who have not had experience with Active360 on the tidal Thames.
Beginners Courses
- 20% discount on all Active360 Beginners course at either Kew Bridge or Putney sites
- Training session on the morning of the event for £25pp at Kew Bridge. This will run from 10:00 – 11:30.
Experienced paddlers
- People with previous paddling experience, but not with Active360 on the tidal Thames, will be required to complete a short course on the morning of the event for £10pp from 11:00 – 12:00
Please contact Active 360 for more info, discount codes and to book a time which is convenient for you. http://www.active360.co.uk/
Board and kit hire
Board and safety kit will all be supplied by our event partner Active 360. There will be an associated cost for the hire of this equipment - £22 Challenge and £35 Marathon. This is payable when you register. If you have your own board and kit then please bring this and there will be no cost for hiring equipment.
Fundraising
All funds raised will be split equally between the Laureus Sport for Good Foundation and Waves for Change to change children's lives through sport.
You will gain a fundraising pack, regular emails and complete support to make sure the fundraising is as fun and rewarding as the paddle boarding.
See if your company will match your fundraising and your target is immediately given a massive boost.
We are delighted to have staff and young people from the Laureus Sport for Good Foundation and Waves for Change participate in the event.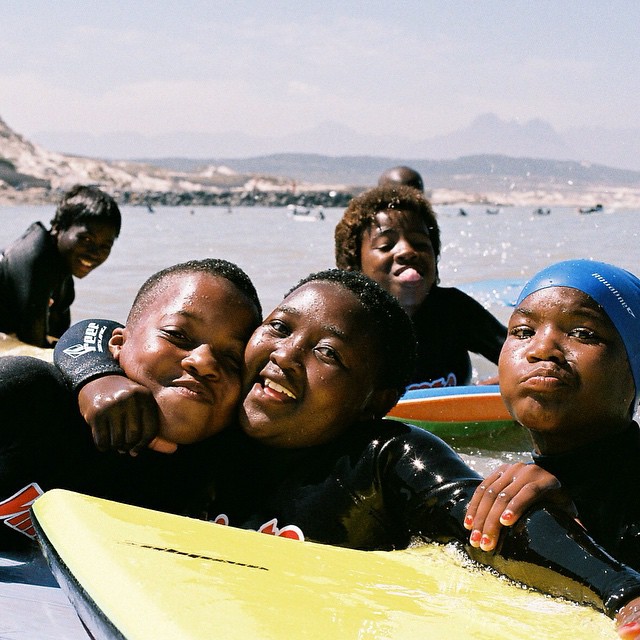 Waves for Change using surfing to change disadvantaged children's lives in South Africa
Laureus and partners using sport to change disadvantaged children's lives in London
Contacts

Event questions
If you have any questions about the event, charities or fundraising don't hesitate to contact us at the Laureus Sport for Good Foundation on 020 7514 2812 / 07341088 151 or email foundation@laureus.com.

Stand up paddle boarding questions
If you have any questions about SUP or training can be found at www.active360.co.uk or by contacting: 0203 3935 360 / 07807 767 999 or email paul@active360.co.uk.

Terms & Conditions
Your Laureus Sport For Good Foundation entry is conditional on agreement with all of the points below:
If you do not take part in the event, any sponsorship money raised will be treated as donations unless your sponsors contact Laureus Sport For Good Foundation directly for a refund.

You agree to raise all money using legal methods and complying with the advice given in the fundraising pack.

You understand that Gift Aid is not included in your minimum sponsorship, but that money raised from Gift Aid is a valuable bonus Laureus Sport For Good Foundation.

All sponsorship money should be collected and paid to Laureus Sport For Good Foundation no later than 1 month after the event.

You give Laureus Sport For Good Foundation permission to use any photographs / videos taken of you at this event, to raise awareness and / or money for the Foundation's work.