Location
The Moonrakers
Cricklade Rd
Swindon
SN2 5AA
United Kingdom
Description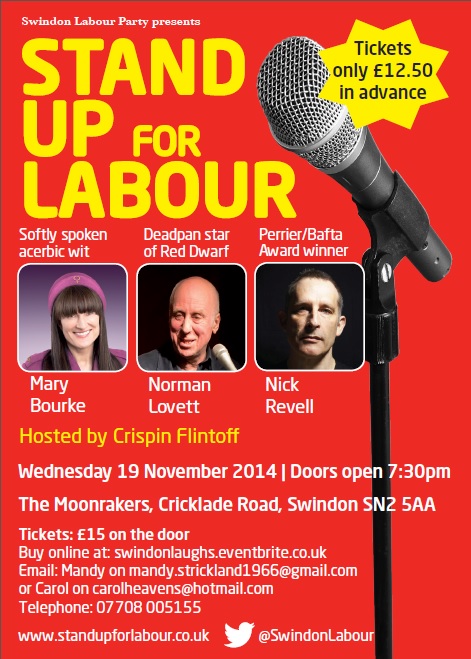 Stand up for Labour holds an event for Swindon Labour Party featuring three of the best comedians on the comedy circuit.
Taking place at the Moonrakers (Clickdale Road, Swindon SN2 5AA), the night features:
Softly spoken - but acerbic - Mary Bourke has brought hysteria to Stand up for Labour events in Vauxhall, Witney, Watford, St Albans and Chiswick. Mary has a beautifully crafted turn of phrase, an ability to draw you in and then shock!
Norman Lovett is well-known as a 'Holly' in Red Dwarf, but was a stand-up comedian for many years before that, having been at the Comedy Store at the advent of Alternative Comedy. Norman has the most relaxed and confident stage persona on the circuit and belly-achingly funny.
There are not many political comedians who can rival the passion that Nick Revell brings to his act. Nick was a Perrier Award winner in 1987 and was a regular compere at the Comedy Store. He then went into writing and won a Bafta award. He is a regular performer at the No Pressure to be funny night in London's West End.
Tickets on the door cost £15.