Location
Star Refrigeration - Head Office
Nitshill Road
Thornliebank
G46 8JW
United Kingdom
Star's engineering experts will lead two half days of CPD seminars and Q&A sessions in Aberdeen and Glasgow which are free to attend
About this event
Star Refrigeration 2022 Roadshow in Scotland will take place in Aberdeen on 14th June and Glasgow on 16th June from 9.00 - 13.30.
The roadshow will help local operators and owners of industrial refrigeration and heating equipment improve operating efficiency, learn about the latest developments in technology and ensure compliance with changing regulatory and legislative requirements.
Who should attend
The roadshow is ideal for those working in cold storage, food and drink manufacturing, HVAC, ice rinks, pharma and petrochemical industries.
Agenda
Star have planned a series of topics on the most current issues facing owners and operators of industrial equipment. Topics recommended by attendees will be incorporated into the seminars and included in discussions during the Q&A sessions. Planned topics so far include:
Refrigerant Compliance - How will the 2022 F-gas Regulation proposal affect your business? Is your installation compliant?
Future Refrigerants - What are the options?
Heat Pumps & Heat Recovery- What are the benefits?
Saving Energy & Carbon - How to improve refrigeration plant energy performance and work toward net zero targets
Please add any other topics you would like to see covered in the space provided when registering.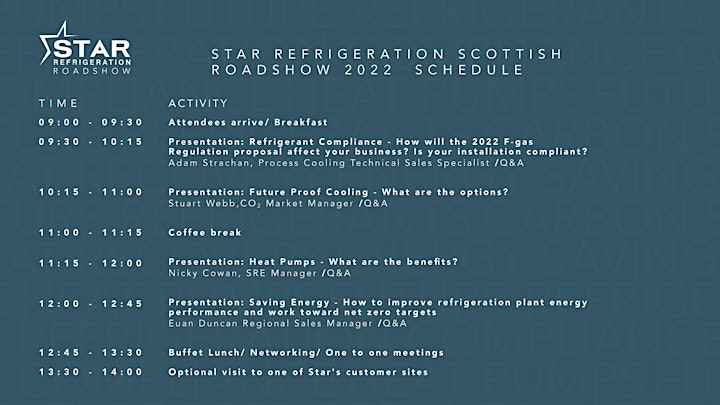 Locations and times
Both events are free to attend and include CPD seminars on current issues, breakfast, lunch and networking opportunities. Attendees can also arrange one to one meetings with members of the Star team for further discussion. After lunch, attendees will have the opportunity to visit a Star customer site.
Aberdeen - 14th June, 9 am - 1:30 pm at Curl Aberdeen - Eday Walk, Aberdeen AB15 6LN
Glasgow - 16th June, 9 am - 1:30 pm at Best Western Moorings Hotel, 114 Hamilton Rd, Motherwell ML1 3DG
The event is free to attend, but you must register your interest to book a place. Click on "Register" to book your place.
Testimonials
Still sceptical? Listen to our attendee feedback from Star's 2017 Roadshow:
"The information gave us a prompt to look at the legislative side of things even further, particularly, the presentation from Dr Dermot Cotter which reinforced the fact that there are further compliance items to look into to stay ahead of ever changing compliance regulations." Damien Gallagher – James Hall & Co
"Star is fuelled by a passion for refrigeration, and its people are so passionate about the specialist work they do. You don't often see that with the majority of refrigeration contractors." Gareth Morgan – Gist
"We do believe that Star lead the way when it comes to refrigerants and regulations, so we're here today to learn what's new in the industry." David Harker – Newsome Ltd