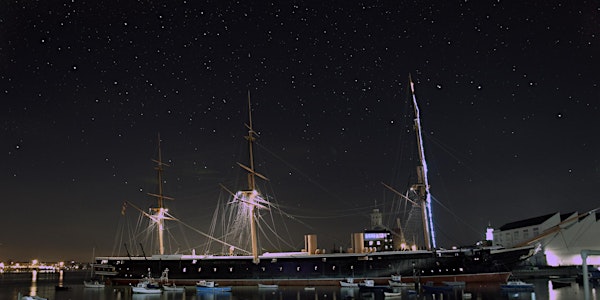 Stargazing Live at Portsmouth Historic Dockyard 2016
Location
Portsmouth Historical Dockyard
#Victory Gate
Portsmouth
PO1 3LJ
United Kingdom
Description
*****
Please note that Stargazing Live at Portsmouth Historic Dockyard 2016 is completely sold out. No entry will be allowed to the event without a ticket
*****
---


An evening of stargazing, space activities, cosmology chat and talks at Portsmouth Historic Dockyard, with activities taking place on board HMS Warrior 1860 and in Action Stations.
Join astrophysicists and cosmologists from the University of Portsmouth's Institute of Cosmology and Gravitation, navigation experts from Portsmouth Historic Dockyard, amateur astronomers from Hampshire Astronomical Group, and many more at this BBC Stargazing Live partner event, exploring navigation through space and time.
During the event you will have the opportunity to take a look through a telescope, learn how sailors navigate by the stars, and find out more about our Universe.
Short talks will be given throughout the night on topics within stargazing, navigation, cosmology and space.
There will be a range of activities to suit all ages, with plenty to do and see whether it's clear or cloudy!
Tickets are available for two entry times - 6pm and 7.30pm. Please contact us if you would like to make a group booking (over 10 attendees).
www.icg.port.ac.uk/stargazinglive
---
This BBC Stargazing Live partner event is a collaboration between the Institute of Cosmology and Gravitation at the University of Portsmouth, HMS Warrior 1860, Action Stations and the Hampshire Astronomical Group.