Somerset Social Enterprise Network invites you to attend this FREE online event for social entrepreneurs in Somerset.
About this event
Great ideas lie behind every great social enterprise. Nurturing and supporting social entrepreneurs at the ideas stage is critical. Gareth Hart of Iridescent Ideas will look at the process of setting up a CIC and guide you through:
What even is a social enterprise?
Business planning
Setting the vision and mission for your business
Marketing and market research
Setting up the right legal structure for your venture looking at CICs, charities, companies and more.
Gareth is the co-founder of Iridescent Ideas and has over twenty five years experience of working with the social enterprise, voluntary, public and private sector. He has worked at a strategic level with national organisations and at a grass-roots level providing business support and funding advice on a diverse range of subjects and themes.
Gareth led the bid that saw Plymouth become the UK's first 'Social Enterprise City' and writes regularly on social enterprise themes for various publications. Gareth also chairs the local social enterprise network.
Special Member Benefits: One hour of 1-2-1 support with Gareth is available for up to 5 Network members after this workshop.
Join the Somerset Social Enterprise Network today - It's free! If you are just starting up you can join as an Associate Member and sign up to our regular newsletters. Membership is open to social enterprises and similar organisations of all sizes and at all stages of development, across a wide range of business activities. I
Booking: Registration is needed. The Zoom link will be sent to you after booking.
Evidence: Please note by signing up for this free event, you agree to your name/organisation being shared as evidence of attendance with the Somerset District Councils who provide funding for this free event.
It is possible that we may need to alter the content of the event. We will do our best to notify all delegates before the event if significant changes need to be made.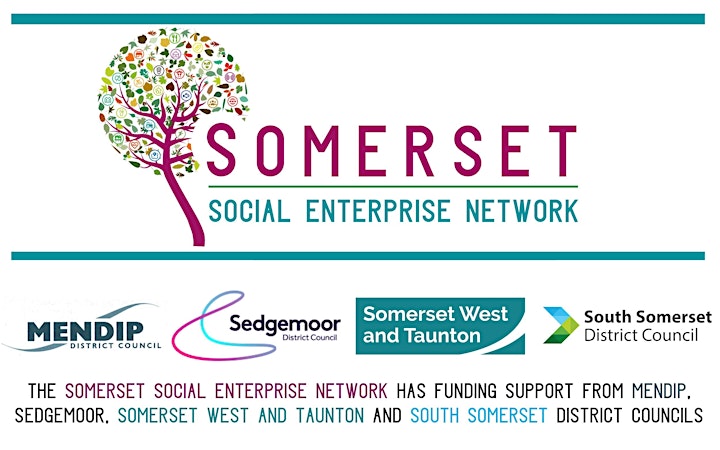 Organiser of START IT! Setting up a Social Enterprise in Somerset
Somerset Social Enterprise Network
We work to support the development and growth of social enterprises so that they can thrive and add social value by investing within communities for now and the future.
We provide events, online or in person, to provide training and networking opportunities.
We act as a voice for the sector in Somerset to decision makers and funders.
Join the network and get connected with other social enterprises who can inspire you.
Membership is open to social enterprises of all sizes and at all stages of development, across a wide range of business activities.
JOIN TODAY: www.ccslovesomerset.org/enhance-social-enterprise
Want to find a social enterprise in Somerset or Devon?
www.enhancesocialenterprise.org.uk
Support and Devon Social Enterprise Networks
The Somerset Social Enterprise Network is supported through funding from Somerset Local Authorities' Business Cluster Support Grant.
The Somerset Network works closely with a partnership of five social enterprise networks across Somerset and Devon who share knowledge and resources.
We were funded through the Heart of the South West Enhance Social Enterprise Programme with support from the England European Regional Development Fund (ERDF) as part of the European Structural & Investment Funds Growth Programme 2014-2020.