Description
"One day, I want to work for myself or start my own business".

Does this sound like you?

If so, you're not alone - 60% of young people feel the same way.

But how to make it happen?
If you're between the ages of 16 to 25 and keen to seize the self-employment opportunity, these free workshops are for you!
You'll get expert advice, resources and support - plus learning from people out there doing it already. You'll learn how to start a new project or business and make a success of it, meet a new community of people like you who want to make something happen, and build your confidence, connections and ability to work on your own terms.
By attending these free workshops, you will get help to make a breakthrough to start your own business - and achieve more than you ever thought possible!
Find out what each workshop will cover and book your free place:
Tue 12 June, 6.30pm - Show me the money
Learn what to sell, for how much, and where. Turn your customers into your biggest fans, and keep them coming back for more.
Mon 9 July, 6.30pm - Grow and profit
Take your business to the next level by understanding how to manage your accounts, raising funds, understanding the legals & more...
Tue 24 July, 6.30pm - Closing party
If you have attended a workshop session, you get a special invitation to the closing party to celebrate progress, meet professionals and explore further opportunities.
---
Free Enterprise Nation membership
We know that starting a business comes with a tough job description. That's why we created Enterprise Nation, the UK's most active small business network.
Enterprise Nation membership gives you access to exclusive opportunities to grow your business and can connect you with over 70,000 entrepreneurs and business experts who can help. Your membership is free when you attend a Start Something workshop!
These workshops are powered by:


Your trainer:
Henry C. Blanchard left a boring corporate job at Deloitte to create an adventure sports business, set up a charity in rural Uganda, and travel the world. Working with Oxford University Business School, Escape the City, TEDx, Enterprise Nation, Funzing and others, he putting on talks, events and workshops to help people create businesses and bring ideas to life.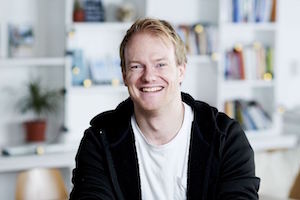 Got questions?
Email hello@enterprisenation.com and we can point you in the right direction!