Description
"One day, I want to work for myself or start my own business". Does this sound like you? If so, you're not alone - 60% of young people feel the same way. But how do you make it happen?
---
Are you under 25 and thinking about working for yourself, starting a business, launching a product or creating a social change movement?
If so, these workshops are for you. Get expert advice, resources and support plus meet and learn from people out there doing it already. You'll learn how to start a new business, project, social enterprise or charity and make a success of it.
Meet a new community of people like you who want to make something happen, and build your confidence, connections and ability to work on your own terms.
By attending these free workshops, you will get help to make a breakthrough to start your own business - and achieve more than you ever thought possible!
---
Your workshop series timetable:
Tuesday 30 October - How do I start?
These are the things they won't tell you in business studies. How do I figure out what I want to do? How do I define success? How do I come up with a good idea? Or choose one if I have too many? And what happens next?
Tuesday 6 November - Who is my market?
There are nearly seven billion people in the world. Find out how many of them want what you've got. Market research, done right.
Tuesday 13 November - Spread the word!
Get expert advice on how to brand and market your product or service. Everyone has a unique story - let's identify yours and learn how to hustle hard.
Tuesday 20 November - Your first customer?
So you've got the idea, the plan and the market. What next? How do you make any money?
Tuesday 27 November - Show me the money!
Turn your potential customers into your biggest fans, and keep them coming back for more.
Tuesday 4 December - Live the life
Take yourself and your organisation to the next level by understanding how to manage your accounts, raising funds, understanding the legals & more. But more importantly, how to manage yourself, give back and help others.
---
How do I get involved?
Simply register for free by clicking on the blue 'select a date' button above. These sessions are all free. Each one builds upon the last, but also works as a standalone. So you can come for as many or as few as you want.
Register for the first session, and we'll automatically save a space for you on all of the other sessions which saves you having to sign up to each individually.
We're at Tintagel House, 92 Albert Embankment - in between Vauxhall Station and Vauxhall Bridge. There'll be a big sign at reception. 6:30 - 9:30pm every Tuesday from 30 October.
You only need to bring a pen and your mind. (We can even lend you the pen). Feel free to bring snacks & drinks. The workshops are informal and chill.
---


These workshops are powered by:


Your trainer:
Henry C. Blanchard left a boring corporate job at Deloitte to create an adventure sports business, set up a charity in rural Uganda, and travel the world. Working with Oxford University Business School, Escape the City, TEDx, Enterprise Nation, Funzing and others, he putting on talks, events and workshops to help people create businesses and bring ideas to life.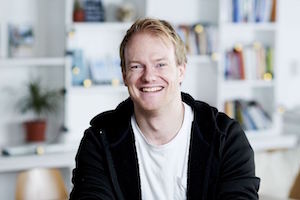 Got questions?
Email henry@enterprisenation.com and I'll help as much as I can