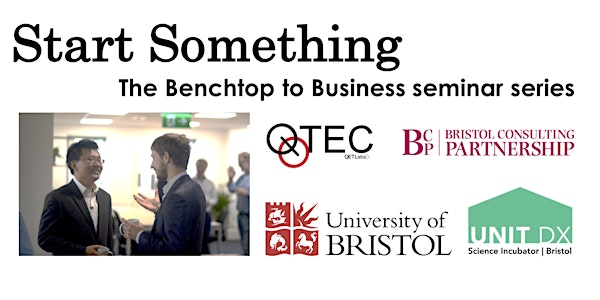 Start Something: The Benchtop to Business seminar series
Location
Unit DX
Bristol
BS2 0XJ
United Kingdom
Description
Start Something: From Benchtop to Business
Introducing & inspiring entrepreneurship in Bristol's Postgraduate academic community; supporting the development of the South West eco-system.
Start Something aims to introduce and encourage postgraduates to consider entrepreneurship as an alternative career path to research, and introduce them to a network of professionals that can help them on their journey. For the professional community Start Something offers the opportunity to meet and engage with entrepreneurially minded individuals seeking to create the high growth businesses of the future.
Who is it for?
The series is particularly relevant for postgraduate students considering future career paths, those exploring entrepreneurial opportunities and looking to build high quality networks with experts and practitioners. It is also a chance for the business community to mix with the next generation of talent. The programme will encompass:
A series of eight free evening lectures and networking sessions, open to academics and business professionals interested in entrepreneurship. Each session is based on a topic of entrepreneurship and delivered by industry practitioners who can speak from personal, practical experience.
Development of a network that encompasses entrepreneurial talent from the university and practitioners from the business community involved in entrepreneurial business.
Start Something is for people who want to:
Find out how they can develop their business idea,

Learn the 'how to' by developing basic business skills,

Explore the entrepreneur inside,

Build skills needed for entry to business creation competitions & external programmes,

Meet like-minded individuals and develop multi-skilled teams,

Know how to transform an idea into enterprise,

Network with experienced and successful entrepreneurs.
Come join us for our launch event on October the 31st and start your entrepreneurial journey. Sessions will run from 5 pm to 8:30 pm and will feature talks and panel sessions from experienced entrepreneurs who have been through the process. Every session will be followed by a networking event where you can meet fellow entrepreneurs, members of the business community and engage with the support mechanisms to help you Start Something. If you are with a university then please use your University e-mail address.
31st October - Heart and Mind: Entrepreneurial Motivation
Join us for a panel session on taking the first steps hosted by Yuri Andersson of Nabla Ventures with our guests Steve Kitson, Founder and CEO of Folium Optics, Ingrid Chauvet, Founder and Director of Rise Structures, Iouri Prokhorov Founder and Managing Director of Helastel and Andrew Smith Chief Operations Officer of SSBN.

This session is focused on what drives an entrepreneur to take an idea and/or technology (university or otherwise) and turn it into a growth business by examining actual cases of entrepreneurial companies that have successfully transformed from an early stage idea to a real venture.
7th November - Opportunity: Size it & Seize it
This session will feature talks from Executive Director of Dashboard Peter Stirling and SETSquared Entrepreneur in Residence Greville Commins and will cover how to recognise an opportunity as well as to think about its value.
21st November - Hard Work or Luck?
This session will feature talks from Alasdair Pettigrew, CEO of BOXARR and Cecilia Thirlway, founder of Cecilia Unlimited. You will hear how entrepreneurial and innovation opportunities are discovered and developed. The speakers will examine the different ways that opportunities can be discovered and describe what is needed to ensure opportunities are recognised.
12th December - Spectrum ZX or a Sinclair C5: Ensuring the market fit
This session looks at how the original business vision needs to meet with the reality when taking a novel technology from the research lab to market. Our talkers will be Yuri Andersson of Nabla Ventures and Claudio Marinelli, Vice President of Business Development for Eight19.
The series will be moving to a larger venue in 2018 and the last half of the sessions will feature:
9th January - Captaining your ship - pressgang the crew?
30th January - Driving your Vision: Planning & Modelling
6th February - Growth: Feeding the 'Beast'
20th February - Exit Strategy: Trade Sale, IPO or Burn Out!