Start The School Year Right 2020: A Back-to-School Event for Parents
Start the School Year Right 2020 - A Back-to-School event for Parents and Children (who are in years 9 - 13)
About this event
Raising Successful Children Limited invites you to...
Start the Year Right which is a yearly interactive parent's Workshop where we put strategies and systems in place to help every child as they return to school at the start of the new academic Year.
Due to the current situation with COVID-19 and the social distancing rules, STYR will be happening online this year.
Theme: Back to School after Covid-19: How prepared are you?
Highlights:
Covid-19 and your child's education
- the effect of COVID 19 on your child's learning
- how parents can make up for the loss of school time
Nicky Bright, Headmistress at Bruton School for Girls
How to make sure you stay on top of your child's learning
Shola Alabi, Education Director at Thurrock Tuition & Exam Success Education Centres
Preparing your child for an uncertain future
- Entrepreneurship - How to turn your child's gift/passion into a viable business
Case studies / relatable examples
Korede Alabi, CEO DK Styling service
Young Entrepreneurs / Student Leaders - sharing how they have turned their gifts/passions into a business in order to encourage and inspire other children.
Your Child's mental health - developing grit and resilience
Dr Tutu Adewole
Facilitated by: Shola Alabi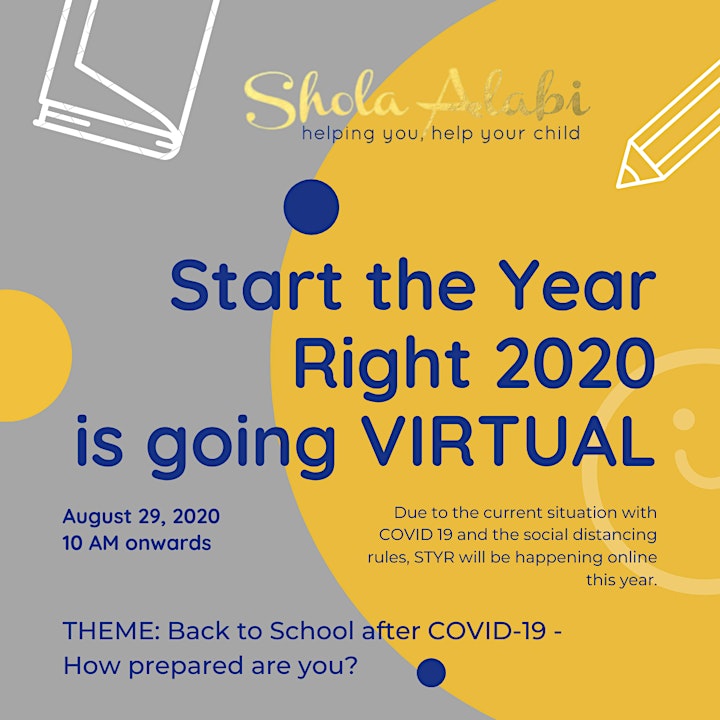 Date and time
Location
Refund policy
Organiser of Start The School Year Right 2020: A Back-to-School Event for Parents
Shola's passion is to help parents raise well rounded, successful children who find and maximise their full potential. Shola's many years of experience both as a teacher and mum has helped her realise that the reality of raising a successful child can only be achieved when parents are equipped with the right tools, information and advice.
One of the tools that Shola has created to support children through all the key stages of their educational journey is Parent Box.
Parent Box is an online course that has 6 step-by-step video modules where parents can find everything they need to understand exactly how the UK educational systems works at every key stage. Parents will also find out exactly what they need to do to ensure that their children get the most out of their time at each stage of the journey.
Parent Box is the perfect resource for parents as they prepare to support their children through every key stage, and it is available now!
Check out the website below for more details: