The Business & IP Centre's Start-up Day is back! Join us for business networking featuring the screening of our pre-recorded panel event.
About this event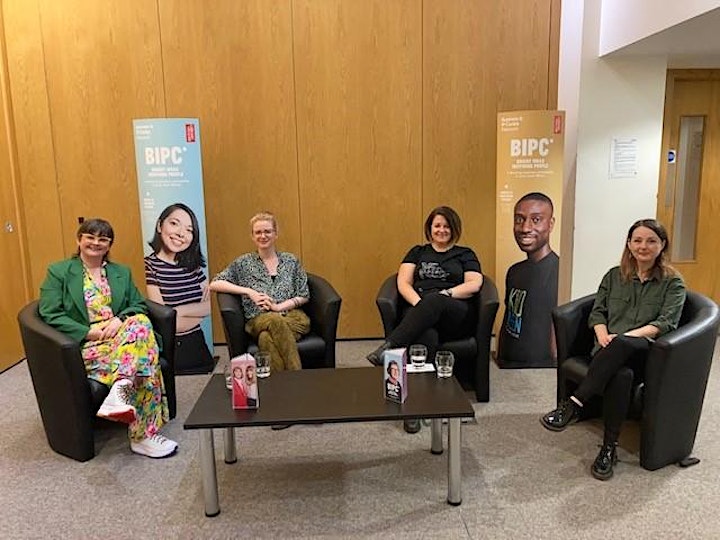 Whether you're just starting out, or ready to take the next step, join us at The Mitchell Library for the Business & IP Centre's National Start-Up Day.
Unable to come to The Mitchell in person? Join Start-Up Day online for a day of free talks and practical advice sessions designed to get your business idea off to a flying start. Click here to register.
Programme
10.30 – 12.30
Business networking coffee morning featuring the screening on bipc.tv of our pre-recorded session 'Making a difference – starting and running a business with environmental impact'
11.10 – 11.55
Screening of 'Making a difference – starting and running a business with environmental impact'
Lively discussion featuring four inspiring local female entrepreneurs whose businesses are making a social or environmental impact.
Moderator: Rachael Brown, Chief Executive of The Future Economy Company
Rachael is committed to supporting businesses that are creative and want to make a social impact. She has over twenty years of experience as a leader in the creative industries and social enterprise sector building impactful businesses and turning ideas into reality.
As Chief Executive of The Future Economy Company, she leads an all-female executive team across a wide range of innovative programmes that up-skill, empower and connect our community. When not at her desk or in a meeting, she can usually be found hosting or speaking at events, running business skills development workshops, consulting with a range of organisations and institutions and working with the government to negotiate policy change on behalf of our sectors.
She sits the Scottish Governments Creative Industry Leadership Group, and sub-group on business resilience. She was also until Jan 2021 Conenver of the Can Do Collective leading Scotland's entrepreneurial community. In addition she sits on the UK council for Creative Industries and is a member of the Business Action Group that reports directly to UK Gvt Ministers.
https://futureeconomy.co/
Panel member: Trudi Donahue, Founding Director at Wild & Kind CIC
Trudi founded Wild & Kind, a social enterprise based in Glasgow which focusses on minimising isolation and loneliness for people with gender identities. Profits made from ethical merchandise sales fund workshops, meet-ups, and community events for women and those outwith the gender binary.
As well as being a founding director of Wild & Kind, Trudi is a maker, illustrator and embroiderer.
She previously ran a small Glasgow brand 'Halfstitch', but more recently she has dedicated her time and focus to building Wild & Kind into the organisation that it is now.
https://wildandkind.com/
Panel member: Lynne Haddow, Co-founder of Extincts CIC
Extincts CIC exists to mobilise the next generation of animal protectors. Our digital collectibles game teaches kids about endangered animals and their habitats. Our planet-positive clothing range reduces waste and helps spark conversations about why conservation is important.
We think gaming is the gateway to education that sticks. Through Extincts kids canl earn to empathise with all the incredible creatures that share our planet. We support front line conservation charities by donating 70% of profits from our game and clothing range. Through educational, digital experiences we aim to bring awareness to current environmental crises and inspire interest in conserving biodiversity. Our games are built with kids' safety and security in mind. Helping to save the planet while maximising the educational aspect of screen time.
https://extincts.org/
Panel member: Fiona Lindsay, Director at ReBlade Limited
Fiona started her career with an Earth Science degree in the construction industry before moving into renewables in 2008, developing and achieving consents for many of the UK's flagship windfarms.
In 2021 Fiona partnered with her husband Steven to create ReBlade Limited and is now focussed on implementing innovative techniques designed to reuse, recycle, and repurpose glass reinforced fibre in the decommissioning of commercial-scale wind turbines.
Fiona is particularly passionate about the environment and the building of a sustainable future. ReBlade's core values seek to achieve sustainability for the benefit of our future generations and is firmly focussing on the need to achieve a low carbon, green economy on the all-important route map to achieving NetZero.
https://reblade.co.uk/
14.30-15.30
Environmental responsibility for business start-ups
Find out how our resources can help your business to be more environmentally responsible. We know both entrepreneurs and consumers have a part to play in reducing our impact on the planet, so whether that's understanding legislation and support available, learning what your customers expect, finding ways to reduce and assess your impact, or researching the latest trends and innovation around sustainability, we have tools that can help.
The workshop will be delivered in line with the Scottish Government's Covid-19 Strategic Framework. The guidance currently stipulates 'it will continue to be the law, subject to exceptions, that face coverings must be worn in indoor public places and on public transport'.
Organiser of Start-Up Day 2021