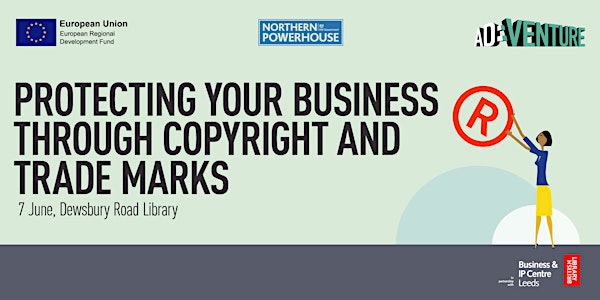 Start-Up Leeds: protecting your business through copyright and trade marks
Location
Dewsbury Road Community Hub
190 Dewsbury Road
Leeds
LS11 6PF
United Kingdom
Find out how to protect your business and intellectual property through copyright and trade marks.
About this event
Understanding your intellectual property and how you can protect it is important for businesses and creators, find out how in our interactive workshop.
In our final Start-up Leeds session at The Dewsbury Road community hub and library, our Business & IP Centre Leeds team will be providing an overview of the two most common ways of protecting your business through understanding copyright and registering trade marks.
In this session, you'll:
• Find out how having a trade mark can help protect your brand
• Learn what can and cannot be registered
• Learn what copyright means for you and your business, how it protects your work and how long copyrights last
• Understand how to ensure you're not infringing on anyone else's trade mark or copyright.
About Start-up Leeds:
Start-up Leeds gives anyone with a business idea the skills and confidence they need to take their business further. The programme will be delivered in selected libraries across the city, starting in Horsforth Library and linking into a wider programme of talks at Leeds Central Library, and will feature a range of specialists covering the skills and knowledge you need to take your business to the next step.
You can attend the full programme or dip into the topics that best suit your needs.
Start-up Leeds is delivered in partnership between the Business & IP Centre Leeds and AD:VENTURE. To find out more visit: www.leeds.gov.uk/campaign/start-up-leeds
Privacy policy statement
After you have attended one of our events we ask that you complete a short feedback form. We will use the information you provide to improve the services we offer in line with our legitimate interests. This information is collected and transferred to us by our third-party processor, Impact Reporting using their Impact Assessment Tool. Impact Reporting will retain your data to save time when completing any future feedback forms we may send you. For more information about how they use personal information, please see their privacy policy online at https://impactreporting.co.uk/legal/privacy-policy/
For information about how the British Library will use your personal data, you can view our Privacy Policy at https://www.bl.uk/about-us/privacy-policy
For information about how Business & IP Leeds will use your personal data, you can view our privacy policy at: https://www.leeds.gov.uk/privacy-statement/privacy-notice