Description
Dear Start-Up and Corporate Innovators,
An invitation:

We'd like to share a deep understanding of the innovator's greatest challenges -
to accurately identify the innovation winners, and to guarantee accelerated market traction.
Please join us at our next FREE 1-hour knowledge-sharing session in JHB on Nov 1st,
Event highlights to be shared include:


Overcome innovation's biggest challenge, to get market traction!

Learn to 'value innovate'.

Convert your innovative product / idea, into realisable value that counts for your market.

Pick the innovation winners with a higher degree of accuracy, and to know if yours is a winner.

And if it's not a winner, then understand why more time and money will not help.

The principles and practices of guaranteed market adoption.

Real-world business case studies.

Know what the market wants from your innovation(s), in advance of going to market.

Pivot towards hitting your market's sweet spot, consistently.

Pick the potential winners consistently, and ensure early market adoption certainty for those winners, and funding becomes a synch.

And when the market pulls, you're able to build an uncomplicated, scale-able business.

STOP promoting your product's features and benefits, and START promoting your customer's guaranteed value!

Picking the winners and creating 'market pull' is a learnable, measurable skill.

Sharing how to pick the innovation winners and to master guaranteed market adoption.
Learn how innovators can master market adoption – to go from Start-UP to Lift-OFF consistently!


Please note: There is absolutely no purchase required, nor further obligation expected, from your attendance.
Of course there are conditions though, and that is, to make the most of the session.
To do so, you'll need to be:
A Founder of a post-revenue innovative Start-Up or Corporate Innovator

Currently facing a market adoption constraint for your innovation , and
Determined to break the constraint, to achieving lift-off as soon as possible
If you would like us to call you to clarify any aspect before committing to attending, please email anthony@tmara.biz with your contact details, or simply register and we'll see you at the session.
We guarantee take-away value to dramatically increase the rate of market adoption for your innovation to achieve lift-off.
Attendance is free but participation is limited to ensure maximum value for each attendee- bookings on a first-come-first serve basis.
About TMARA
www.tmara.biz

Our Vision

To solve a massive problem for the world - to improve the odds for Start-Ups, Entrepreneurs, Innovators and Funders

Our Mission

To teach innovators and their stakeholders how to commercialize their inventions.


Please meet TMARA Masterclass lead, Henning du Preez co-founder and Chief Innovation Officer of TMARA.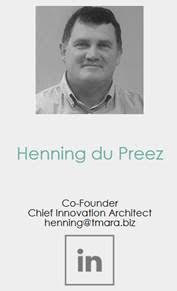 And click on the image below to find our TMARA knowledge base which is excellent preparatory reading for attendees:





Henning du Preez:

"There is a fundamental mistake that most innovators have always made, regarding how to assess and effect market adoption. Thankfully there is now a de-risking remedy.
We have developed and want to share, the ability to quickly and accurately assess which innovations are likely to be market winners, and then ensure they go to market successfully.
Our mission is to up the odds of success for innovators"
www.tmara.biz
Let us know if you'd like to host a similar knowledge-sharing session at your offices or convenience, otherwise we look forward to seeing you on the 1st Nov.