About this Event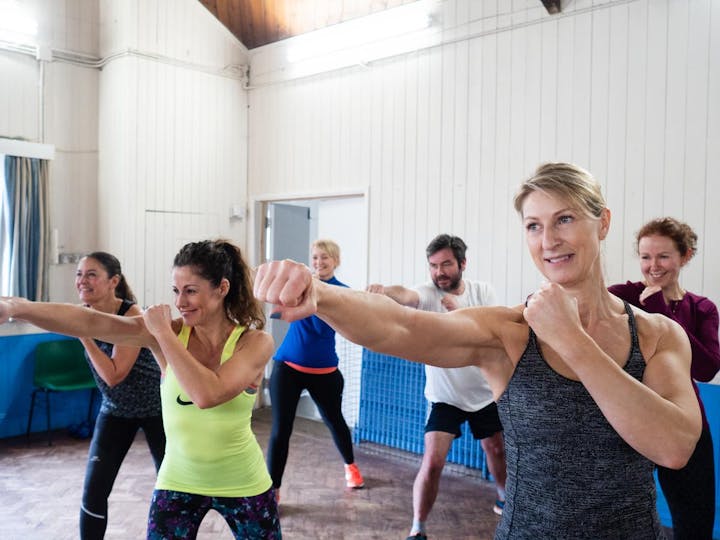 MOVES FITNESS: A CAREER
The fitness industry has changed over the years. Gyms employ the majority of group exercise instructors as part time, hourly paid workers. Moves Fitness believes group exercise leaders are key players in the fitness industry, and should receive compensation appropriate to their contribution. Every Moves Fitness instructor owns his or her own business and pays Moves Fitness for services received, not the other way around.
MOVES FITNESS CLASSES
Moves Fitness is a pre-choreographed exercise to music class combining cardio, resistance, flexibility and functional movement in a safe, simple format. Moves Fitness currently offers two programs, Moves Fitness-which is appropriate for a wide range of ages and fitness abilities and Senior Moves Gold - a program designed especially for the older active adult including balls, bands, weights and seated exercise. The foundation for both classes will be presented at the 3 Day October workshop.
MOVES FITNESS MAGIC
Something sets Moves Fitness apart from other group ex-classes. It is reflected in the face of a 1st time student when they simply can't believe a workout can be that much fun, or in the unique way the exercises match the music allowing the emotional experience of the song to transferred into movements.
" I love the choreography. It is so flexible and the music and the movements match in such a way that it is simply "Magic". I have students who have been coming for over 20 years and they say there is nothing like it. They love it and I love teaching it!."
Janet Johnson - Moves Fitness business owner for 23 years.
"I've made some great friends at Moves. Their classes are an hour just for you… you can forget about everything while you dance, get fit, and have fun. You can adapt the class to how you feel, high-impact if you're full of energy and low impact if you have had a long day. Moves Fitness has been the one constant fitness class in my life and I always leave feeling like I've done something good for my body and mind. Quite simply it's a party in comfy shoes!!"
Sarah M – Moves Fitness student for 20 years.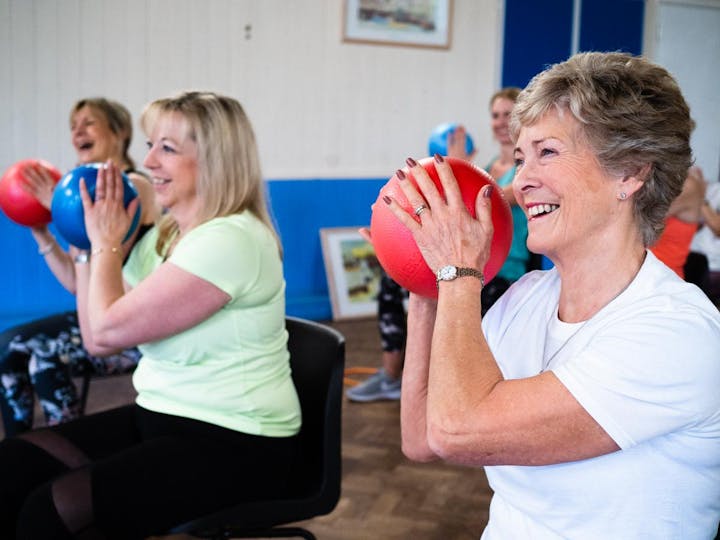 Moves Fitness: The Company
Founded in 1981, by Olympian Cindy Gilbert, Moves Fitness provides initial and continuing education; complete programme content and all the support an independent instructor needs to run a successful group exercise business. Moves Fitness provides:
• Initial certification
• On going education
• Complete program design and choreography
• A full time office, website, and internet support
• Access to insurance and administration
• And depending on area, cover for classes.
Most of our teachers have taught for over 10 years and believe it is one of the most important things they've done for their own health and the health of their communities.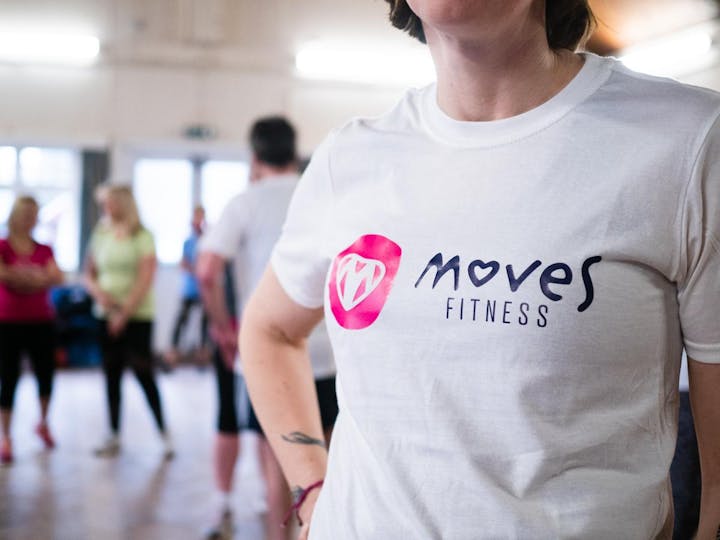 The Event: Moves Fitness Instructor Training
The Moves Fitness Initial Instructor Training Course is an annual event running over the course of three days in October. Depending on previous experience and qualifications candidates often receive a Moves Fitness qualification at the end of the Initial Course. If after the Initial 3 Day Course you are not quite ready to start teaching, Moves Fitness designs a bespoke training plan to complete your preparations at no additional cost.
Prerequisites for the Initial 3 Day:
Basic sense of rhythm
A commitment to building a business which enhances the lives of others through exercise and human connections
Previous exercise and certifications are preferred but not required.
Who will train you?
Our excellent teaching team is led by award winning instructors, all of who have run their own successful exercise businesses for years. They will help you with everything from anatomy and exercise technique, to picking out the right sound equipment, and developing a marketing plan. You will have access to personalized coaching and mentoring throughout your entire career.
The October 12-13 and 26 Initial training will be led by Moves Fitness founder, programme designer and Olympic athlete, Cindy Gilbert.
A renowned expert in the group exercise industry, Cindy pioneered pre-choreographed programming for group exercise professionals in the UK in the early 80's.
Cindy Gilbert, BSc Kinesiology, MA Exercise Science, Consultant to Les Mills, Princess Cruise Lines Fitness Director, Nike Fitness Athlete, ACSM, ACE, AFFA, Silver Sneakers, Move It Or Lose It and Jazzercise Certified. Past member member of USA National Speakers Association and UK Professional Speakers Association. Owner, founder and developer of the Moves Fitness programme.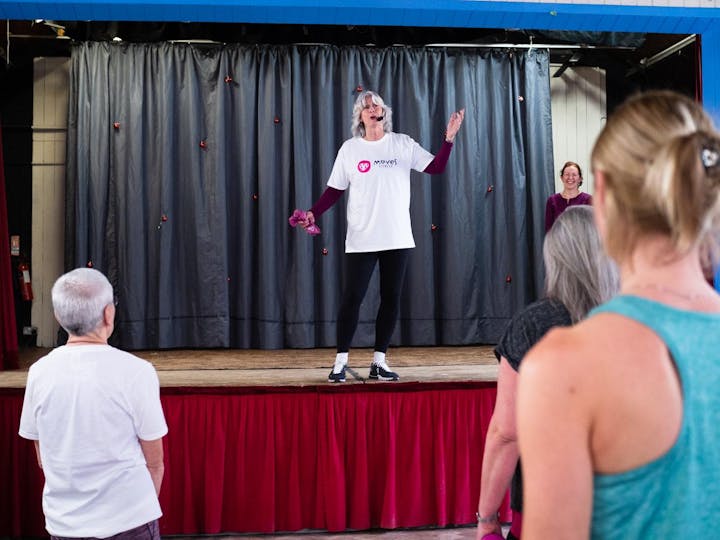 The Initial 3 Day Workshop Focus
The workshop is hands on with a focus on the "why", "what" and "how" of teaching safe, effective and captivating Moves Fitness classes.
You will experience one-on-one and group training with a combination of theory and practical sessions. The workshop is fast, effective and most importantly fun.
"The Moves Fitness workshop totally changed my life. So much more than an exercise qualification, it gave me confidence to be the best person I could be."
Sam G – Moves Trainer for 30 years.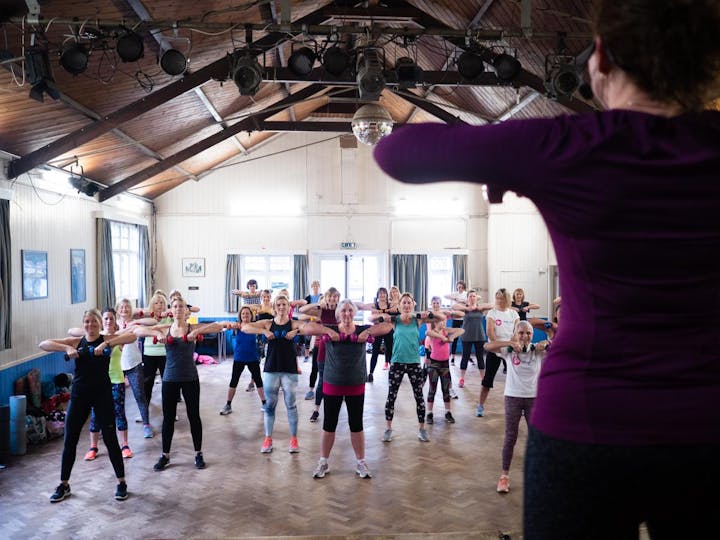 Workshop Overview
Day 1: MORNING SESSION
8:30 to 12:00 FREE NO OBLIGATION
Come and experience a class. Meet Cindy Gilbert and the Moves Fitness workshop team. Participate in a class and orientation lectures. Learn about the Magic of Moves and why it is a programme that encourages you to find the best in yourself. If, at the end of this morning session, either you or Moves Fitness believe the programme is not a fit for you, your workshop will end here and there will be no payment required.
Day 1: AFTERNOON
You Begin Building Your Business!
Payment for Workshop- £ 179.00 (inclusive)
Your adventure begins with your first big commitment, paying for your Initial Training. Subjects covered on that first afternoon will include:
- Teaching Exercise
- Purpose of movement
- Exercise Science Principles
- Class design
- Student safety
- Centering principles
Day 2:
- Active mentoring; learn while doing
- Group and individual training
- Presentation skills
- Leadership
- Definitions and terms applied
- Exercise leadership in a community setting
Day 3
- CPR Certification (no additional cost)
- Learn while doing
- Marketing and Industry Requirements
- Goal setting: set timetable to start teaching
- Establish continuing education schedule (if required)
How To Register
Fill in the application on the Eventbrite site. Once we receive your contact details, we will be in touch with you to let you know how to prepare. Payment of £179 is required at the beginning of the afternoon session on Day 1 October 12th
SPECIAL OFFER: 2 for 1
Moves Fitness believes in working as a team. We know that having a friend to train with and someone to provide class cover makes a huge difference to the success of your business. To help guarantee your success Moves Fitness offers a 2 for 1 deal. Book on the course with a friend prior to Oct 12, you will receive 2 training courses for the price of one.
If you have any questions or just for more information.
Contact: moves@movesfitness.com
Or call the office: Vivienne - 07432 712110