Description
Inspired by London Fashion Week in February, you're invited to my exclusive Starting Up Your Fashion Startup, Instagram Masterclass designed by a Qualified Marketing Practitioner and Social Media Expert. In my practical session, I mentor you to start, sell, post, promote and grow using Instagram.
As a Qualified Marketing Practitioner, I believe premium marketing support shouldn't just be for the big boys but accessible and affordable to all, so whether you're a business owner, entrepreneur, designer, young professional, marketing employee, intern, graduate, aspiring blogger or individual wanting to promote themselves, market their business or pursue a career in the fashion industry this interactive/practical has been designed for you.
Overview
I tailor the session to you and your needs, with a maximum of four individuals in the Lounge and through a combination of hands-on support, bespoke practical tasks and mentoring, I take the stress out of Instagram, the fear out of failure and support you to start your career or grow your business into the Chanel of its niche confidently.
How to Start, Set-up and Create a Professional Fashion Instagram Account
What to Post on Instagram to Increase Followers, Likes & Comments (Engagement). With Practical Daily Tips for Increasing Followers
How to Promote and Market Yourself, Company or Business Effectively on Instagram. And Use Instagram to Start Selling on Instagram (Ads)
What's Unique About My Masterclass?
Access to a Fully-Qualified Digital Marketing Practitioner, Award-Winning Social Media Specialist & Business Mentor
Delivered by an industry expert, who has over a decade of experience working with global brands
Affordable, digestible and practical hands-on masterclass (sharing secrets to growing your business)
Bespoke Masterclass tailored to you and your business needs, with follow-up aftercare support
You're saving hundreds to thousands (estimated saving of £2500+)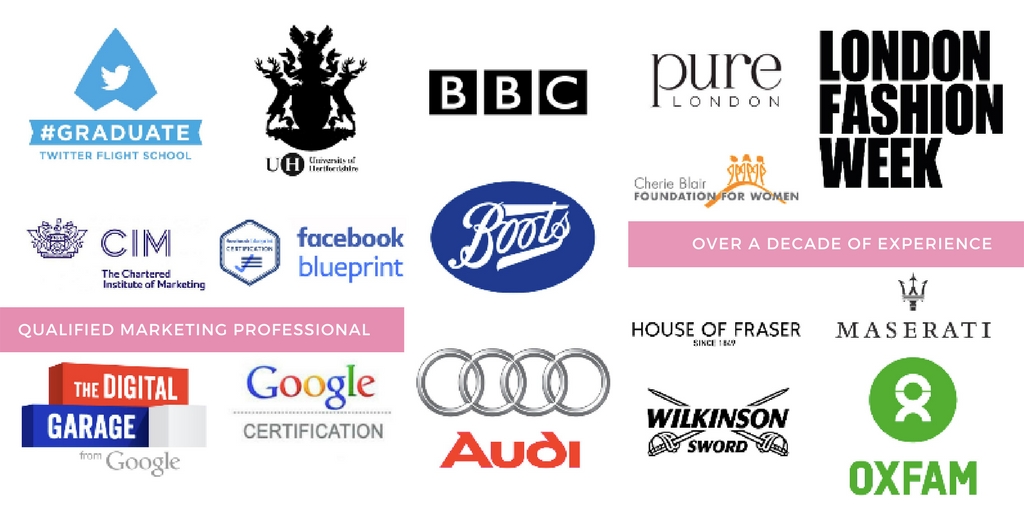 Testimonial
"I went to the Masterclass expecting to have an informative session on Instagram, instead, I received more than I paid for. It was a masterclass, a coaching session rolled in one and, towards the end, I felt I was talking to a friend who has my best interest at heart. I totally and utterly recommend her! If you use social media, go to one of Sarah's Masterclasses, you will thank me in the end." - Laura Mariani, Corporate Director & The People Alchemist.
Reserve Your Place Today
If you would like me to support you be the Chanel of your niche and leverage the power of Instagram for your career or business, then come join me. Buy today and save over £200 with my early bird tickets.
I genuinely look forward to supporting you on your journey.