An Award-Winning Startup Mentor sharing her secrets to starting a successful fashion or beauty business.
About this event
After a sell-out success of Starting Up Your Fashion Business online masterclasses and workshops at our Waterloo offices in Central London, I've launched an online course and to celebrate, I've decided to share my secrets with`` you and all within 30-minutes. So I invite you to join me on this free webinar, where I reveal the blueprint to starting up and becoming the Chanel of your niche.
Tell Me More
Having worked closely with big brands and started up a successful business I understand it's a dog eat dog world. Unless you have connections or a secret stash of cash to spend on marketing and PR, starting and growing your business can not only be overwhelming and impossible.
With my 15 years of expertise in starting and growing businesses, specialising in starting up my purpose is to give individuals the opportunity to start up or support people struggling to grow, after all, starting up a business mentoring shouldn't be for a select few. That's why in this webinar I will share my secret blueprint to getting you started.
My webinar and startup blueprint course supports you to startup, be your own boss, finally get what you deserve and have financial freedom!
You're In Qualified Hands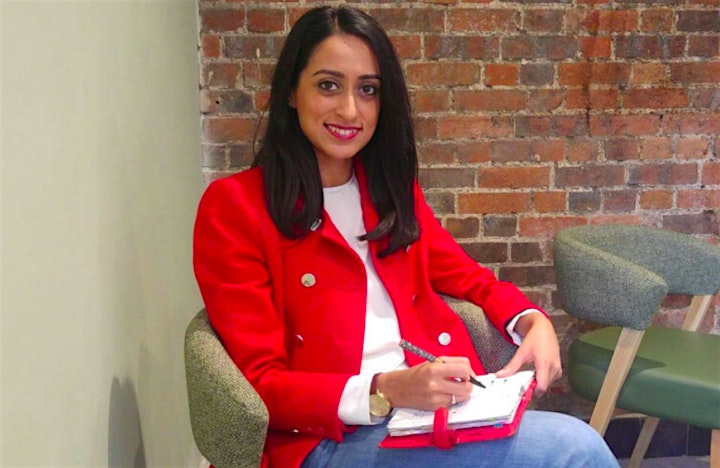 You may not have heard of me as for over a decade I've been working behind the scenes for some of the biggest brands in the world. I'm an Award-Winning Business Mentor and Qualified Marketing Expert, who has been featured in Huffington Post, BBC, Hello Magazine, and spoken at Pure London and Olympia London. I've partnered and trained employees from organisations such as VW Group, London South Bank University, WeWork, and PwC.
Today I support businessmen and women to startup, launch and become the Chanel of their niche. Clients include Architects, Corporate Directors, Vice Presidents, Managers, CEOs, Surgeons to Luxury Fashion Designers, from Google, Amazon, NHS, Gucci, Deutsche Bank, Vivienne Westwood, Bank of America Merrill Lynch, DKNY, Kurt Geiger, and BBC.
You wouldn't go to an unqualified doctor or specialist, so why do it to your future investment, yourself, and your business.
Testimonials
"It all started by attending one of Sarah's workshops. Sarah is the only person I can trust who understands my value and my vision. She supported me to startup from nothing, she invested time and I can never thank her enough. I could not have done it without her!" - Beverley Walters.
For more testimonials, you can visit my website www.saraklondon.com.
Register Today
After you register you will see a link to view the pre-recorded webinar, so no need to wait simply watch as you wish.
I genuinely look forward to meeting and supporting you to become the Chanel of your niche.
Warmest Regards
Sarah, Sara K London -10 York Rd (Waterloo), London SE1 7ND