Location
King's College London
Bush House North Wing
30 Aldwych
London
WC2B 4BG
United Kingdom
Description
Whether you want to be your own boss, have a business idea or simply want to improve your entrepreneurial skills, this is the event for you.
Join Enterprise Nation at StartUp 2019 and you will have access to over 100 inspirational entrepreneurs and small business experts across 10 different stages and interactive zones. Taking place on Saturday 19 January at King's College, London, StartUp 2019 is the biggest start-up show of the new year.
---
Entrepreneurs and experts include:
Steve Moore, founder and CEO of darts social bar chain Flightclub which now employs over 200 people, has jumped across the pond to Chicago and has also eyed up locations in Hong Kong and Melbourne.

Lee Wilcox, founder of largest niche online community On the Tools with a community of over 2.2million grown in just 3 years. Lee will share his expertise from content to community to commerce.

Mike Soutar, founder of leading digital publisher and media platform Shortlist Media with pioneering brands including Stylist, Shortlist, Emerald Street and Mr Hyde counted among their portfolio.

Tugce Bulut, founder & CEO at Streetbees who's been using AI to disrupt the $45bn market research industry

Professor Stefan Allesch-Taylor CBE is a British entrepreneur, philanthropist, broadcaster, and educator. He also started the award-winning Department of Coffee and Social Affairs. It's now the fastest growing coffee business in the UK by a mile and making great strides in the US.
Dan Beckles and Monty George, co-founders of Furniture Box, a contemporary furniture business started when they were just 19 and 20. They turned over £1m in their first year of trading.
Alex and Rupesh Thomas, the husband and wife team who turned down the Dragons to build Tuk Tuk Chai on their own terms.

Ben Towers, the 20 year old serial entrepreneur and investor on a mission to change the health outcomes of his generation.

Elizabeth Mckenna, BBC Apprentice semi finalist and Nottingham based florist who is owner of Flowers by Susan and Lizzie's Bundles.

Karen Holden who launched A City Law Firm in 2009 after growing concerned about the impact pregnancy would have on her career, she's now turning over in excess of £1m per year.

Thomas Delgado is the CEO of the online car dealership, We Buy Cars Today, which he launched at the tender age of 23. Fast forward six years and today, Thomas's company is set to turnover £9m, which he believes is largely the result of being a young entrepreneur.
Meet the Journalist panel will help you to find out what journalists from top publications and broadcasters want from a story. We'll be joined by Joanna Partridge, business producer at ITV News and Myron Jobdon, investment and small business reporter.

Plus many more! We'll also have zones focused on digital marketing, raising funds, entrepreneurial mindset, building a brand and much more!
The full agenda for StartUp 2019 can be found here. Tickets cost just £10 including a free month trial of Enterprise Nation membership (new members only).
Enterprise Award Attendees
If you are attending as part of the King's College London Enterprise Award, you can access your free tickets by emailing the King's Entrepreneurship Insitute at innovation@kcl.ac.uk.
---
This event is powered by Enterprise Nation and King's College London

Enterprise Nation is Britain's most active small business community and we have helped thousands of people turn their good idea into a great business.

Enterprise Nation membership gives you access to exclusive opportunities to grow your start-up and connects you with like-minded entrepreneurs and business experts. Membership is just £10 a month and you can cancel at any time.
By activating your free membership trial in the event confirmation email you are sent, you'll get instant access to all the business benefits, plus access to a VIP member lounge at StartUp 2019 if you continue your membership beyond the trial. Existing Enterprise Nation members get 25% off by logging into their dashboard to book tickets.
The King's College London Entrepreneurship Institute exists to support entrepreneurial thinking, skills and experiences amongst King's students, staff and alumni. No matter what career you have ahead of you, skills to innovate and to be entrepreneurial will be valuable.
StartUp 2019 is supported by: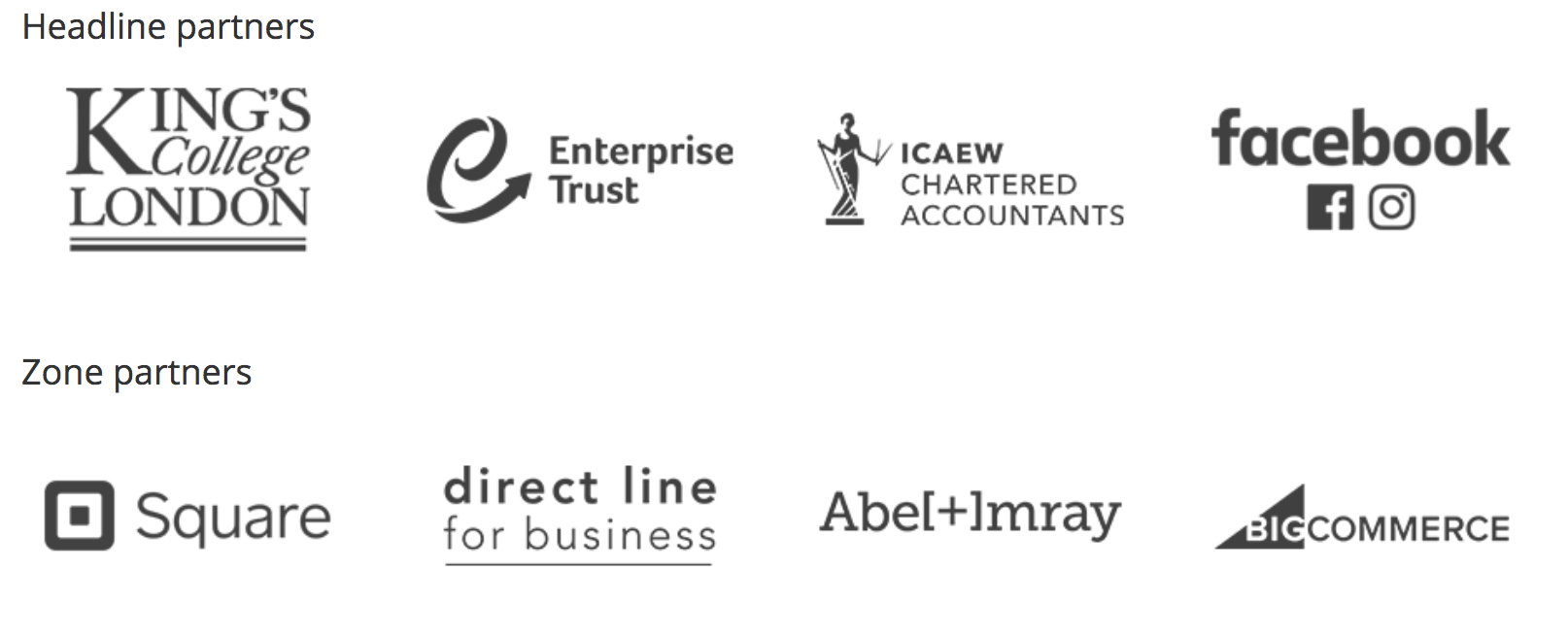 ---
Cancellation policy
For a full refund, cancellations must be made at least 48 hours prior to the event. Please note, in the event you are unable to attend due to cancellation from yourself or Enterprise Nation, we are unable to refund any associated costs such as hotel or travel.