Sales Have Ended
Ticket sales have ended
We're delighted that you have registered to attend the Startup Grind Cardiff event and we look forward to welcoming you. Please be respectful and polite to all attendees, and remember to listen to what people may briefly wish to say about their ideas, projects and how we may be able to help. Twitter Conversation Hashtag is #StartupGrindCardiff @StartupGrindUK Facebook.com/StartupGrindCardiff
Event Information
Location
Steinbeck and Shaw (Conservatory)
Greyfriars Road
Cardiff
CF10 3DP
United Kingdom
Sales Have Ended
Ticket sales have ended
We're delighted that you have registered to attend the Startup Grind Cardiff event and we look forward to welcoming you. Please be respectful and polite to all attendees, and remember to listen to what people may briefly wish to say about their ideas, projects and how we may be able to help. Twitter Conversation Hashtag is #StartupGrindCardiff @StartupGrindUK Facebook.com/StartupGrindCardiff
Description
Work Life Balance for Professionals and Entrepreneurs
Presenting Dr Veerle Van Tricht
Startups Meeting to Inspire, Educate and Connect
Our speaker has Inspired Hundreds of Burnt out Professionals to Balance their Work & Life!. At this event you will learn how we can help businesses thrive and increase moral among teams. With a renowned expert that has worked as a volunteer for Doctors without Borders, in Africa and Australia. Having helped over 20,000 people with many alternative forms of healing including Life coaching.
Burnout Expert help you! In her 20-year career as a specialist surgeon, Dr. V has healed an estimated 20,000 patients across the globe.
She has worked in Belgium, France, South Africa, Cameroon, Namibia, Australia and the United Kingdom.Veerle is on a mission to empower patients and teach them how to take the key to their wellbeing back. born on 4 March 1968 in the small town of Heist op en Berg in Flanders( Belgium). She became a Medical doctor at the University of Leuven in 1993 and an Ophthalmologist in 1997. Dr V worked as a volunteer for Doctors without Borders and other non-profit organisations, in Africa and Australia, doing cataract surgery in rural villages between 1993 and 2006. An avid scuba diver she swam with sharks in the Blue Hole in Durban, SA, manta rays in Fiji and Thailand and even the elusive whale shark, in Mozambique . She also enjoys snorkeling and feeding jackfish in the Cook Islands. Travel is her main hobby.
She worked as a vitreoretinal surgeon in one of the biggest university hospitals of South Africa, in Pretoria. Dr V is a talented public speaker, in several languages, including English, Dutch and French.
She has taught medical students and registrars and spoke at numerous conference all over the world. As well a owing successful private practises in Bruges, Belgium and Hervey Bay, Australia between 2001 and 2014 she has alsobeen a Reiki master since 2005 and studied many alternative forms of healing including Life coaching at the internationally certified coaching institute in Melbourne( TCI ), certified Angel Therapy and Tarot card reading with Doreen Virtue in Maui, Hawaii. Intuitive Life Coaching with Christie Marie Sheldon.
Dr V wrote an autobiography about her spiritual experiences in the medical world, whilst she was working as a consultant ophthalmologist in Dr Gray's hospital, in beautiful green Elgin, Scotland, Called 'my Surgeon Talks to Angels', look for the links on the page to purchase from amazon. Dr V likes yoga and pilates and a daily walk as her favourite forms of exercise.
Together with her three young children she lives in Cumbria United Kingdom.
Startup Grind is the largest independent startup community, actively educating, inspiring, and connecting 1,500,000 entrepreneurs in over 500 cities. We nurture startup ecosystems in 150 countries through events, media, and partnerships with organizations like Google for Entrepreneurs. The cornerstone of our global community are monthly events featuring successful local founders, innovators, educators and investors who share lessons learned on the road to building great companies. Founded in Silicon Valley, Startup Grind has now hosted 5,000 fireside chats since its founding in 2010. To date, Startup Grind has helped millions of entrepreneurs find mentorship, connect to partners and hires, pursue funding, and reach new users.
Agenda


6:00 pm Entrepreneur Networking
6.30 pm Food served
7:00 pm Fireside Chat Interactive
7:45 pm Quickfire Pitching
8:00 pm Networking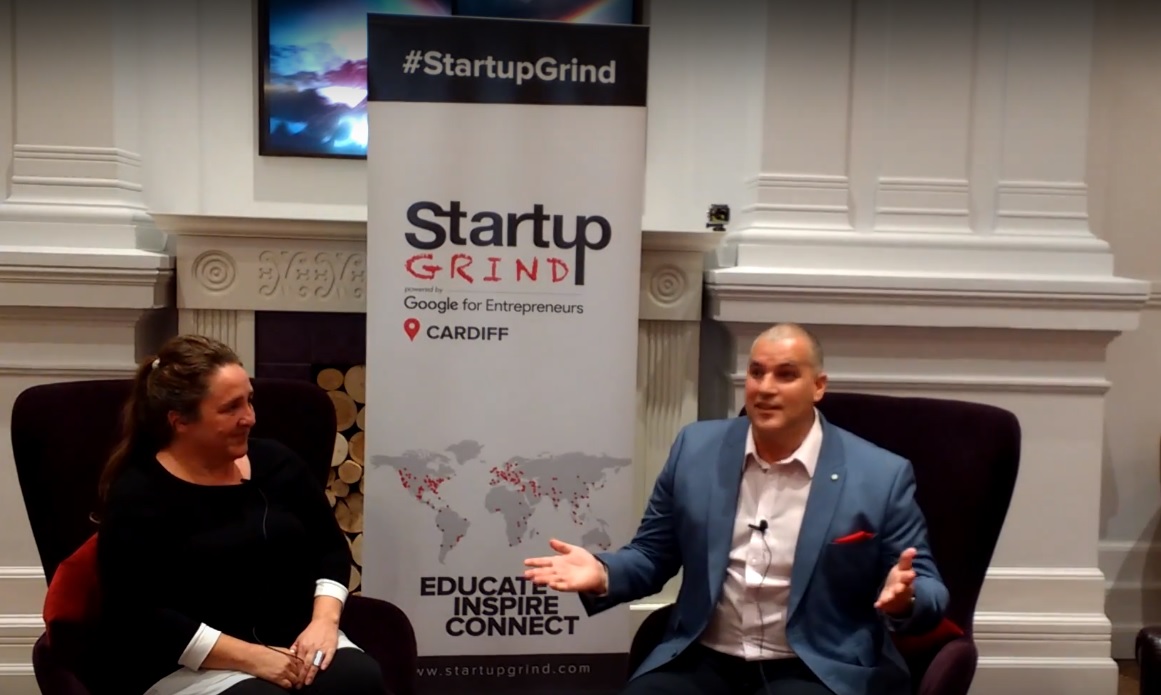 Date and time
Location
Steinbeck and Shaw (Conservatory)
Greyfriars Road
Cardiff
CF10 3DP
United Kingdom