Description
Our Interviewee is Assil Skaiky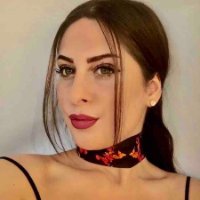 Coming from a Lebanese background, Assil Skaiky spent her childhood in Lebanon before coming to the UK at the age of 11. She later moved to Wales then England to pursue a degree in Fashion and Textile Design at the University of Portsmouth. Shortly after graduating Assil embarked on her mission to embrace Textiles & colour. Her work reflects her background, the freedom she enjoys set against the colours, shapes and textures of Nature.
​Mark-making coming from nature is what the collection is all about. Assil's sense of colour, pattern and her fearless approach to design lead to creating unique pieces. Each print has a story for the independent, young and sexy woman.
​Assil's collection is based on original hand drawings coming from Nature. Mixing drawings, mark making and digital prints drawing inspiration from the colours and shapes of nature.
"My silk scarf collection will bring a vibrant element of style to any look, whether an elegant outfit or jeans and a jacket.
She said " when I wear silks I feel confident and elegant, silk also has a luxury, sensual touch and I want my customers to have that all over feel alive factory" Wanting to create a Luxury brand, Assil's aim is to create an item that can be passed down generations hoping it becomes an item of sentiment.
Agenda
6:00 pm
Food, Drinks and Networking
Startup Grind is the largest independent startup community, actively educating, inspiring, and connecting 1,000,000 entrepreneurs in over 200 cities. We nurture startup ecosystems in 98 countries through events, media, and partnerships with organizations like Google for Entrepreneurs. The cornerstone of our global community are monthly events featuring successful local founders, innovators, educators and investors who share lessons learned on the road to building great companies. Founded in Silicon Valley, Startup Grind has now hosted 5,000 fireside chats since its founding in 2010. To date, Startup Grind has helped millions of entrepreneurs find mentorship, connect to partners and hires, pursue funding, and reach new users.