Actions and Detail Panel
Startup Track
Thu, 16 Feb 2017, 13:00 – Fri, 24 Mar 2017, 16:00 CET
Description
Dit 5-daagse bootcamp combineert een aantal workshops die je startup goed voorbereid uit de startblokken doen schieten. Van business modeling over product market fit naar pricing, pitching en marketing. Hiermee worden de basics gelegd die onontbeerlijk zijn voor elke startup founder.
De workshops worden begeleid door ervaren experten en gestaafd met case studies. Om een goede interactie te garanderen, wordt het aantal deelnemers beperkt tot 15 dus snel inschrijven is de boodschap!
Bonus: Tijdens het closing event wordt een pitching contest georganiseerd waarbij de winnaar het volledige inschrijvingsgeld kan terug winnen!
LOCATIE
To be confirmed
PROGRAMMA
16/02/2017: Kick off Night: Pitching Sessie 1: Bart Van Loon
22/02/2017: Business model canvas, value proposition, lean startup method: Béatrice de Mahieu
10/03/2017: Products market fit, pricing: Nick Boucart
15/03/2017: Funding & Innovatiesteun: Frank Maene & Wouter Desmet
21/03/2017: Closing Event: Pitching Sessie 2 : Bart Van Loon
Pitching Contest: Jury members: Bart Van Loon/ Frank Maene/Wouter Desmet
In Partnership With: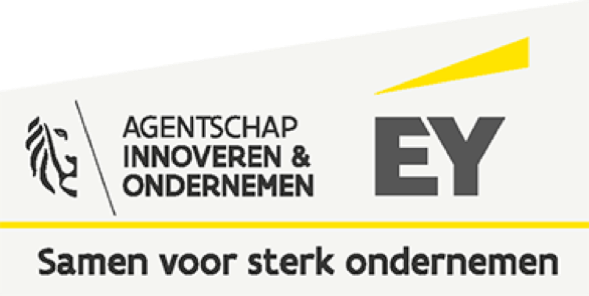 Agentschap Innoveren & Ondernemen: Samen voor sterk, ambitieus ondernemen.Meer starters, meer blijvers en meer groeiers: daar gaan we voor! Agentschap Innoveren & Ondernemen en haar partners willen u daarbij ondersteunen. In the Spotlights is slechts één van de vele initiatieven waar u gebruik van kan maken. Ontdek ze allemaal op www.sterkerondernemen.be. #sterkondernemen.
EYnovation EY gelooft sterk in ondernemerschap. Om die reden willen we investeren in onze relaties met ambitieuze (startende) groeibedrijven en proactief inzetten op hun ontwikkeling. Dat is de reden waarom we EYnovation™ in het leven hebben geroepen: een eenvoudige en modulaire abonnementsformule die gericht is op het ondersteunen van startende, snelgroeiende bedrijven tijdens hun reis naar marktleiderschap, door het inzetten van onze expertise en het openstellen van ons internationale netwerk.