About this Event
Startup Tuesday The Hague
Startup Tuesday is a weekly event to inspire and connect.
This series of events is a collaboration among innovative hubs that aim to strengthen connections and support impact-driven entrepreneurship in The Hague. It's the ideal occasion to network, learn from experienced founders, and explore solutions to shared challenges.
Tuesday 3rd of September | 17.00 - 19.00
On the 3rd of September, YES!Delft The Hague will host the first Startup Tuesday The Hague event after the summer break! During this event, we have two startups explaining who they are and what they do. These startups have both recently followed the Validation program of YES!Delft, and are currently working hard to expand.
Program
17:00 - 17:15 - Walk-in
17:15 - 17:25 - Welcome & Introduction
17:25 - 17:30 - Pitch startup RTI Blockchain
17:30 - 17:40 - Q&A RTI Blockchain
17:40 - 17:45 - Pitch startup Urbandine
17:45 - 17:55 - Q&A Urbandine
17:55 - 19:00 - Networking, Drinks & Bites
About the startups
RTI Blockchain
RTI Blockchain is an online registration and exchange platform for Reusable Transport Items (RTI), such as pallets, crates, roller containers, etc. Every exchange of RTI between registered participants is stored centrally (and anonymously), tracking the stock and value real-time. This allows 100% control over all Reusable Transport Items and their corresponding value, reducing the cost of administration and human capital.
Urbandine
Urbandine is an AI & technology startup focussing on the automation of processes within bars, terraces & beach clubs. With our mobile App and WebApp technology, both staff and customers will benefit from the seamless ability to place orders and make payments in real time.
For horecas, along with increasing earnings through the ease of ordering and up-selling, we look to both reduce reliance on part-time waiters and improve the quality of work for full-time waiters by handling tasks like providing menus and handling payments, thereby freeing up their time to interact with diners and in turn improving customer satisfaction.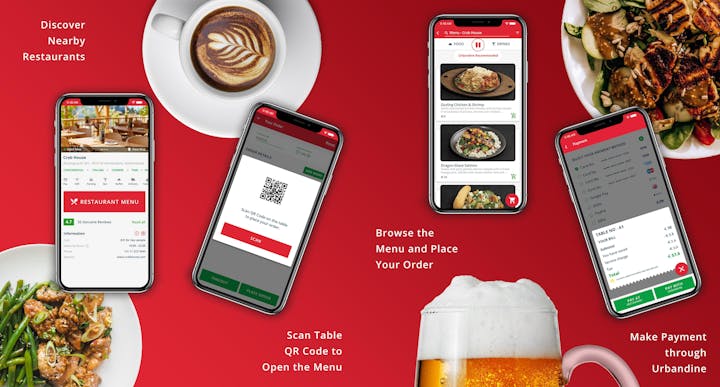 Please note that parking spots are not available. We therefore suggest you travel by public transport or by bike. The Hague station Laan van NOI is smack next to the venue. Parking in the surrounding area can be done, but is only free the first 2 hours.