Startup & want to get into the big league? Think PR! Berlin 2013

Tuesday, March 19, 2013 from 6:00 PM to 9:00 PM (CET)
Event Details
What does PR mean to your Startup ? Is it getting into TechCrunch or Hacker News ? Or perhaps a friendly tweet from one of the Silicon Valley Gurus? Or perhaps being able to announce your entry into 500 Startups? Actually for a Startup that isn't ready with a loyal band of users PR can work against you!!

We're bringing together pioneering marketing and PR experts to give you practical advice and lessons they have learned in the trade.  Not only will you learn from their presentations, but they'll also be on hand to help you with specific questions and dilemmas you may be facing during a "5 minute clinics session" at the end of the Masterclass.
PRESENTERS:
Sebastian Rumberg
Head of Communications at Blinkist
Sebastian has developed a PR concept for startups that is based on Pareto's 80/20 effect for startups that don't have a full-time PR Manager. He helped 6Wunderkinder get PR coverage in Europe and today he's Head of PR at Blinkist.
Sebastian will set up half an hour of personal coaching with every participant.
Nicole Simon specializes in tactic and digital craftsmanship, with a background of many years in the corporate world as well as in training "normal people". Being German but working mostly in an international environment and mindset, she likes to build bridges between those worlds. She is a published author with a book on Twitter and a video training for Social Media Marketing. She also runs the Girl Geek Dinner Germany.
Lutz Cleffmann
CEO at ECCO Düsseldorf/EC Public Relations GmbH
Although acknowledging the fact that we live in an era of online media, Lutz believes that classical media relations is still the means of choice to reach large audiences. In his presentaion, he will focus on the important role that journalists play as gatekeepers, whose recommendations are still much more powerful than those of normal consumers expressed in social media or online forums.
Edial Dekker
CEO at Gidsy
Edial will share how team in Gidsy managed to push their message trough various channels and be featured in some of the best media platforms: Wired, Gigaom, New York Times...
Elaine Jung
Features editor at Venture Village
Elaine will be giving press point of view and advice what you should avoid when addressing media. Elaine generates in-depth stories and is the site's video correspondent. Born and raised in Perth, Australia, Elaine's an experienced broadcast journalist, presenter, and news producer.
If you have any suggestions or questions, please contact mirjana[at]techmeetups.com
PARTNERS
When & Where

RallyPad Berlin
12 Markgrafenstraße
10969 Berlin
Germany


Tuesday, March 19, 2013 from 6:00 PM to 9:00 PM (CET)
Add to my calendar
Organizer
TechMeetups.com
What is TechMeetups?
TechMeetups has been setup to create a global network of Tech communities from San Francisco to Sydney. We believe that Tech communities are isolated and great things can be achieved if we connect within our cities and outside our borders. 
Our global community started out with the launch of the London Silicon Roundabout Tech community in December 2010. Following it's success in becoming one of the city's fastest growing groups, we have launched TechMeetups communities in the following locations:
Europe: London, Berlin, Lisbon,  Manchester, Paris, Budapest, Amsterdam, Stockholm,      Dublin, Munich, Vienna, Barcelona & Brussels 
USA: New York, Dallas, Miami & San Francisco 
Asia: Bangalore, Bangkok, Mumbai & Singapore 
Others : Sydney 

You can see our latest list of communities here.
Why become a member of TechMeetups?
Anyone who is thinking about starting their own software or web company and wants to bounce ideas off each other and meet potential partners or investors are welcome to join this group!
Our aim is to connect the various tech communities to help our members network, connect, invest and launch products in the hottest technology clusters. We plan to organise monthly meetups to cover various technology subjects that are of interest to our members.
Check out all upcoming events in all our communities and promote your company in one of them!
Recruiting ? Wanting to hire that perfect team? Post your jobs on TechStartupJobs and/or take part inTechStartupJobs Fair to attract the right talent to your company.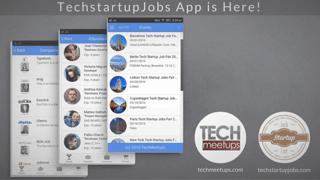 Startup & want to get into the big league? Think PR! Berlin 2013