#Startups: Lessons from 5 Years in the Trenches (Rob Symington) - PART 2

Wednesday, 8 October 2014 from 19:00 to 21:00 (BST)
Event Details
This event starts at 7pm sharp, please arrive by 6.50pm so you can have a chat to our team, grab a drink, and find a seat. Thanks so much in advance.
---
What's the one thing that could tank your business idea?
How do you find and retain talented people?
What are the best books to refer to along the way?
Five years ago, Rob and Dom started Escape the City as a blog from their basement.
Today, it is a world-leading platform helping +175,000 members to 'do something different' with their careers.
In 2012, Escape the City equity crowdfunded £600,000 from 395 of its members (at the time, a world record for an online business) and recently opened The Escape School in the heart of the City.
Come join us for an evening with Escape co-founder Rob Symington who will host an honest, no-holds-barred session on what he has learned from the past few years of leaving management consulting in order to build Escape the City.
He will discuss navigating the emotional rollercoaster of starting your own business, the best ways to market your idea, and how to build the necessary habits in order to create a valuable business.
You will learn how to: 
- Stay resilient during inevitable highs and lows;
- Design sales processes and marketing campaigns that work;
- Attract and retain key talent;
- Find mentors and coaches who can help take you to the next level. 
About the Speaker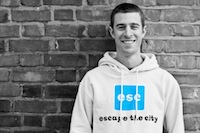 Rob (@escroberto) is Escape the City's Co-Founder. He used to be a management consultant at Ernst & Young. When him and his co-founder, Dom, wanted to change jobs they looked for a service to help them find exciting new career opportunities. There wasn't one...
So they built their own. Escape the City is a global community of +175,000 talented professionals seeking exciting new opportunities. It's about entrepreneurial work, exciting brands, and social impact. It's about building businesses, changing jobs, and going on big adventures.
Quotes from Rob 
"My cofounder and I worked in the corporate world as management consultants. We realized we weren't for this 10-15 year slog to wherever the corporate ladder ends. We were casting about for unconventional opportunities, like starting a business, or going on an adventure. 
We found everything we could on Google and LinkedIn, but it was difficult. We thought, "Hang on, we're not the only people who feel like this." You'd poke your head above the cubicle wall, and realize so many people feel the same way. All good startups seek to solve a problem, and that was ours."
Read Rob's interview with Fast Company here. 
"You: 'I don't have any good ideas, if I did I'd start something. Us: 'Explore other people's ideas and other people. Start doing.' 
You may not currently be having any good ideas but that doesn't mean that you're not capable of having good ideas. Your job might be taking up all of your time, energy and creativity. You may be discounting new ideas before they can really fully form. You may simply be stuck in a rut. All of this might be true but you are still capable of having good ideas."
Read Rob's essay on making brave changes here. 
When & Where

The Escape School
1 Frederick's Place
Bank tube - Cheapside exit
EC2R 8AE
United Kingdom


Wednesday, 8 October 2014 from 19:00 to 21:00 (BST)
Add to my calendar
Organiser
 Escape the City is a global community of +300,000 talented professionals who believe that life is too short to do work that doesn't matter.
We help talented professionals escape unfulfilling jobs and transition into more fulfilling work, build careers on their own terms, and start businesses that matter.
Join our Tribe at www.escapethecity.org.