ICEALEX is honored to invite you to attend Startups of Alex Incubator- Live Showcase
About this event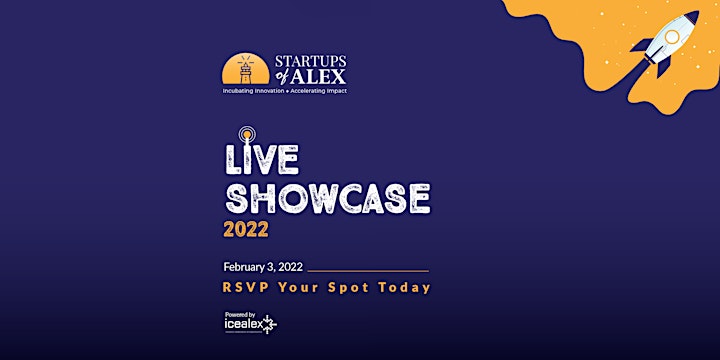 Startups of Alex - Live Showcase is a free, online event that will be taking place on Thursday, February 3, 2022, from 5:30 PM to 7:30 pm Cairo Time (3:30 PM - 5:30 PM GMT) via Zoom.
The Live Showcase is the time for each startup to showcase the achievements made throughout the intense months of the incubation program and for us is the time to celebrate the achievements and hard work of the startups with our success partners, mentors, investors
The startup teams, Who graduated from Startups of Alex cycles 2021 come in different specialized fields including; Artificial Intelligence, E-commerce, Creative Industries, Circular Economy, …, and many others with vivid innovative mentalities and adopting purpose-driven approaches.
It's almost impossible to explain the feelings of achievements. In 2021 ICEALEX had witnessed so many incredible startup successes—The startups had done hard work and dedication into all aspects of their business to improve and scale. Startups of Alex was able to support more than 32 Startups in 7 Governorates Providing them with technical and financial support to better sustain their businesses.
Your registration gives you access to the live event.
Simply RSVP here to confirm your attendance and receive access to the private stream on Zoom!
Click here to take a deeper look into the IMPACT of Startups of Alex 2021
Click here to take a deeper look into the IMPACT of Startups of Alex 2020
Want to check out some of our past keynotes, panels and other incubation programs?
Click here to access our Facebook page.