Multiple Dates
STATE OF SUPPLIER DIVERSITY GLOBALLY- 3 PART WEBINAR SERIES
State of Supplier Diversity Globally post COVID-19 -hear from corporates, minority businesses, advocacy organisations from across the world
About this event
GSDA partners Supply Nation, CAMSC, MSDUK , MSD China and SASDC are proud to present this three-part webinar series to discuss, analyse and share global trends, challenges, opportunities and best practices to highlight the importance of supplier diversity at this time, and support minority business inclusion. We also bring together a dynamic and diverse group of minority business owners from across the world to share how they have tackled the COVID-19 crisis and pivoted their business by being innovative and persistent.
WEBINAR -1 : 29 JUNE 2020
0700-930 EST | 1230-1400 BST | 2130-2300 ACT
CORPORATE APPROACH TO SUPPLIER DIVERSITY ACROSS THE WORLD POST COVID-19
Global supplier diversity programs are being revisited and restructured due to COVID-19. Strategic importance of supplier diversity is varied across industries and countries. Hear from in-country corporate supplier diversity leaders from Australia, Canada, South Africa, China the UK and the USA discussing:
• Where does Supplier Diversity fit in post-Covid19 procurement strategies in their respective countries?
• What key lessons have been learnt during this crisis that highlight the need for diverse supplier capabilities?
• What supply trends and dynamics are these leaders seeing and how will Supplier Diversity in their organisations support them or be challenged by them?
• Will corporate supply chains have to consider a greater degree of local, flexible and diverse sourcing?
PANEL SPEAKERS:
Jim Johnson, Indirect Purchasing Sourcing Manager, Cummins , UK
William Holmes, Director, Global Supplier Diversity GSK, USA
Kiruba Sankar, Global Supplier Diversity Leader, Royal Bank of Canada, Canada
Amy Crookes, Asia- Procurement Manager Pacific Inclusive & Sustainable, EY,Australia
Zandile Njamela, ESDP Lead, Accenture, South Africa
Moderator: David J. Ward, Principal, Vantage Partners, UK
WEBINAR -2 : 8 JULY 2020
730-900 EST | 1230-1400 BST | 2130-2300 ACT
GLOBAL MINORITY BUSINESS OWNERS POST-COVID 19: PIVOTING TO SUCCEED
Meet and hear from inspirational minority business leaders from Australia, Canada, South Africa, the UK and the USA share their stories of resilience, risk-taking, innovation and a never-say die attitude as they pivot their business for success, post COVID19. This distinguished panel of business leaders will discuss:
How their businesses had to adjust during the COVID crisis?
How they see the future for their business, what excites them and what concerns them?
How well do they think your customers have supported them during the crisis and how have they been able to support them?
What is their strategy for post-COVID recovery?
Do you think their customers will radically change their approach to extended, complex supply chains and if so, can they benefit from this shift?
Will supplier diversity programmes continue post-Covid or do they think that major corporations will switch off and focus on business recovery at any cost?
PANEL SPEAKERS:
Farida Gibbs, CEO, Gibbs Hybrid, UK
Trevor Govendar, Managing Director SwiftAir International, South Africa
J. Manasse Theagene, CEO/President, 360 Medlink Inc., Canada
Reshma Moorthy, President,Frontier Technologies, USA
Dwayne Good, Group CEO, InTravel, Australia
Moderator: David J. Ward, Principal, Vantage Partners
WEBINAR 3: 15 JULY 2020
730-900 EST | 1230-1400 BST | 2130-2300 ACT
ADVOCACY ORGANISATIONS RESPONSE TO CHANGING NEEDS TO KEEP SUPPLIER DIVERSITY RELEVANT POST COVID
Hear from the leaders and founders of GSDA from Australia, Canada, South Africa, the UK and China as they discuss how they are re-positioning their organisations to continue supporting corporate supplier diversity programmes, influencing government policies and advocating for and helping minority businesses pivot for sustainable success.
PANEL SPEAKERS:
Mayank Shah,CEO,MSDUK, UK
Cassandra Dorrington, President CAMSC, Canada
Gary Joseph, CEO, SASDC, South Africa
Laura Berry, CEO, Supply Nation, Australia
Yang Lui ,Director, MSD China, China
MODERATOR: David J. Ward, Principal, Vantage Partners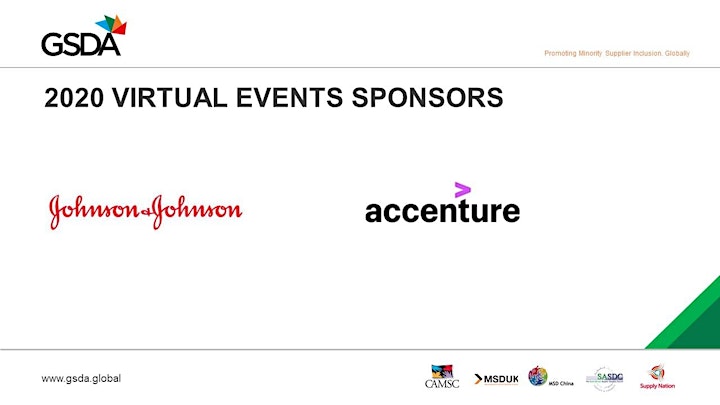 Organiser of STATE OF SUPPLIER DIVERSITY GLOBALLY- 3 PART WEBINAR SERIES
The Global Supplier Diversity Alliance provides a unique collaborative and effective global supplier diversity platform representing international supplier diversity advocacy organisations in six countries: Australia: Supply Nation Canada: Canadian Aboriginal & Minority Supplier Council (CAMSC) China: Minority Supplier Development in China (MSDChina) South Africa: South African Supplier Diversity Council (SASDC) UK: Minority Supplier Development UK (MSDUK) & National Minority Supplier Development Council (NMSDC), USA
Visit us at www.gsda.global