The evening will begin with the launch of the report published by APDP followed by a conversation on 'Why should the UK care about Kashmir?'
About this event
About this Event
The Centre for the Study of Democracy (CSD), within the School of Social Sciences, has a research theme on Post-Colonial Politics, Development and Emerging Powers that in addition to other issues, investigates how religion, history, territoriality, political economy, militarization, democratization and resistance have contributed to a volatile politics that disconnects states and people. There is an explicit focus on engagement with communities and impacting upon public debates around these contentious subjects. Kashmir is one such area of focus in the region.
The event will include two panels centering on the conversation on Kashmir. The first panel will discuss the new report published by Association of Parents of Disappeared Persons (APDP), "My World is Dark" recording the testimonies of pellet gun victims in Kashmir. The report will be presented by Prof Dibyesh Anand, Head of School of Social Sciences followed by a conversation with psychologist Dr Sasha Bhat and Umar Lateef Misgar. The panel will highlight the testimonies of the victims along with the precarious sitauation of the APDP itself under the current regime in India.
The second panel on 'Why should the UK care about Kashmir' addresses the gaps in the conversation on Kashmir in the UK, stressing upon why all of us, need to care about the situation in Kashmir and Kashmiris themselves. The panel will include Labour Party member, Shaista Aziz in conversation with Dr Waseem Yaqoob (lecturer in Queen Mary University London) and Amrit Wilson (South Asia Solidarity Group).
Event format:
6:00 - 7: 30 - Report Launch
7:30 - 7: 45- Break
7:45- 9:00 - 'Why should the UK care about Kashmir?'
This event is organized under "Decolonizing the discourse on Kashmir" an initative by doctoral students based in the Centre for Study of Democracy in the School of Social Sciences.
About "Decolonizing the Discourse on Kashmir"
In light of the current ongoing crisis in Kashmir, various academics in the Centre for Study of Democracy have expressed their concerns for Kashmiris and the narrative circulated by the Indian state to justify the complete lockdown of Kashmir for over 50 days. In an attempt to provide multiple perspectives on the same and challenge the dominant statist narrative, two doctoral researchers within the Centre for Study of Democracy, Amina Mir and Annapurna Menon have organized a series of events that put the focus on a range of Kashmiri voices - academics, medical health professionals, journalists, lawyers and artists. The events will include panel discussions, seminars, movie screenings and we are welcome to suggestions/ideas.
About the Speakers:
Dibyesh Anand: Professor Dibyesh Anand is the Head of the School of Social Sciences at the University of Westminster. He is the author of monographs "Geopolitical Exotica: Tibet in Western Imagination" and "Hindu Nationalism in India and the Politics of Fear" and has spoken about and published on varied topics including Tibet, China-India border dispute, Hindu nationalism and Islamophobia in India, and the colonial occupation in Kashmir.
Sasha Bhat: Dr Sasha Bhat was born in Srinagar. She is a Head of Commissioning for mental wellbeing in the NHS. She has a background in public health, policy and psychology (University of Hull), having specialised in post graduate studies in addiction at the Institute of Psychiatry and Kings College, London and in Policy and Participation at University of Central Lancashire. She is a qualified systemic psychotherapist (University of Leeds). She a co-founder of the women-led initiative called Speakers Corner Collective which is a social political space for dialogue and action. She is on twitter : @shubly (Twitter)
Umar Lateef Misgar: Umar Lateef Misgar is a freelance journalist, and a PhD researcher at University of Westminster. His work has appeared in The Independent, South China Morning Post, The Wire, The New Internationalist among other platforms.
Shaista Aziz: Shaista Aziz is a former BBC News, Al-Jazeera and CNN journalist and has worked as a communications specialist for a number of international organizations including Amnesty International, Doctors without Borders (MSF) and Oxfam. She has worked extensively across the Middle East, Pakistan, East and West Africa. Her writing and journalism has been published in a number of international publications including The Guardian, Globe and Mail, Huffington Post and New York Times. She regularly contributes as a guest on national radio and TV panel discussions including reviewing the newspapers for BBC Radio. She is the founder of the Labour Homelessness Campaign and NGO Safe Space, a Intersectional feminist platform focused on accountability over #AidToo abuse. She is a councillor for Oxford City Council and Co Vice Chair of the Fabian Womens Network.
Waseem Yaqoob: Dr Waseem Yaqoob is a British Kashmiri academic who lectures on the History of Political Thought at Queen Mary University of London. He specialises in the history of ideas about politics, economics and international order in the twentieth century. He is also interested in ideas of solidarity, and the history of military occupation and civilian resistance in South Asia, in particular Kashmir, where his family is from. He is a member of Kashmir Solidarity Movement.
Amrit Wilson: Amrit Wilson is a writer, activist and a member of the South Asia Solidarity Group.
Please note that while the event is open to all, registration is mandatory. Failure to show the tickets online/in paper can result in denial of admission for external members.
Light snacks will be served during the break. The APDP report will also be available for sale at the venue.
For any further queries, please write to amina.mahmood@westminster.ac.uk.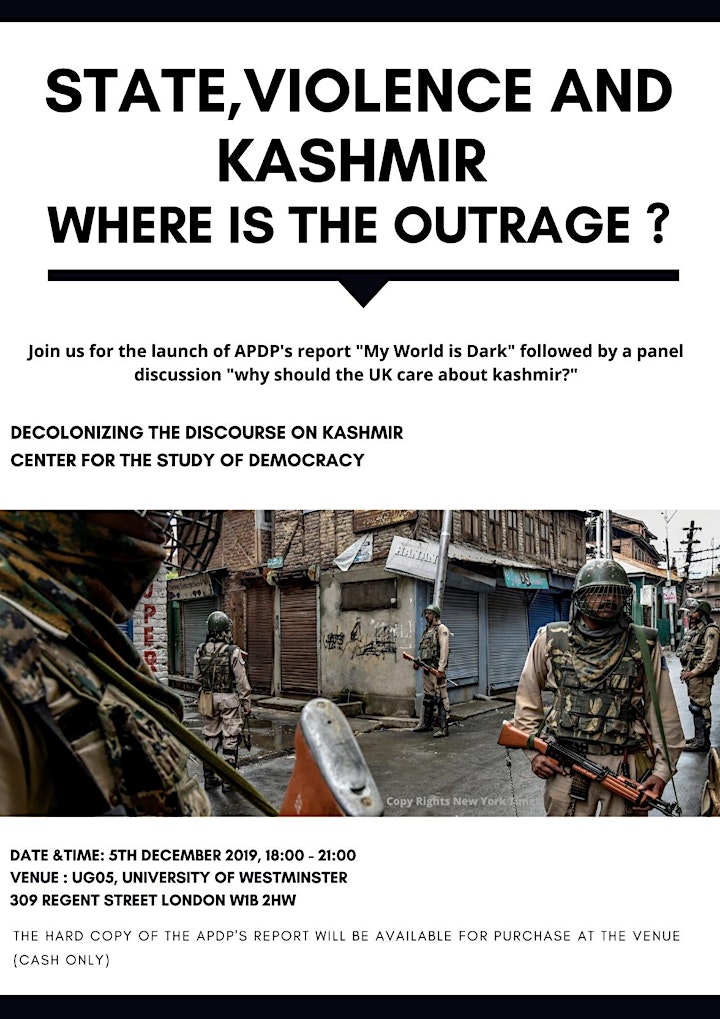 Organiser of State, Violence and Kashmir: Where is the Outrage?