Description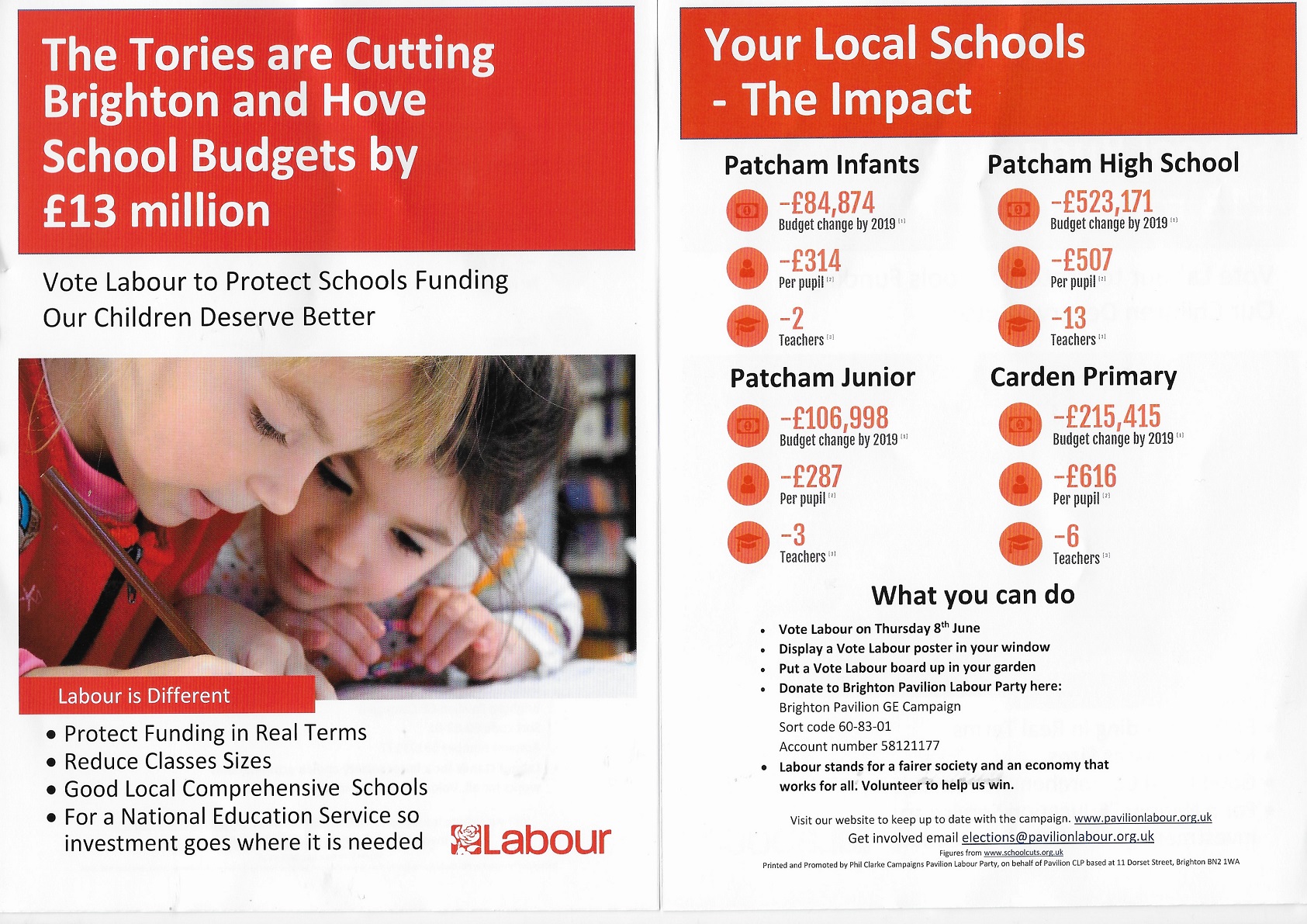 The General election
Patcham Labour Party has the goal to ensure Jeremy Corbyn is the UK's next Prime Minister, supported by as many loyal Labour MPs as possible.
For members who wish to put themselves forward to campaign for Brighton Pavilion Labour Party there is a central co ordinating committee which can be contacted at secretary@pavilionlabour.org.uk.
We are also going to be leafletting Patcham ward in the next few weeks (see attached leaflet which we will be delivering to our local streets). If you would like to be involved in this by being responsible for your street or the ones next to yours please contact the following branch officers so that we can coordinate this to avoid streets being duplicated:
Jack Tyler – Campaigns officer – at jacktyler_@hotmail.com
Peter Hicks – Membership Secretary – at pahicks@supanet.com
Fern Corns – Branch secretary – at patchamlabourparty@gmail.com
As you can see from the leaflet, one of the issues we have discussed within our recent branch meetings has been the Save Our Schools campaign. If you would like to join us in spreading this message by leafletting our local Primary schools before the election then we will be arranging Super Leaflet events nearer to the election date. Please feel free to contact one of the Officers above if you would like further details.
At the same time as working in Patcham, we are prioritising our efforts on winning the Kemp Town seat, which Labour lost to the Tories at the last election by just 690 votes. The Green Party have already stated they will not be fielding a candidate this time after gathering 3,000 votes in the last election. There is a world to win. Individuals may wish to contact Kemp Town Labour Party themselves or indicate their wish to help by again contacting the above officers. Thank you to those members who already have.
We would also urge members to support the campaign to get Peter Kyle re-elected in Hove so that the maximum number of MPs are returned to form our next Labour Government.
If you would like to pick up any leaflets, stickers or A3/A4 posters to display in your windows please contact Jill Spedding at jillspedding@btinternet.com
If there are any other suggestions or events members would like to organise please get in touch.
Fraternally
Patcham Branch Officers.
Victory to the Labour Party