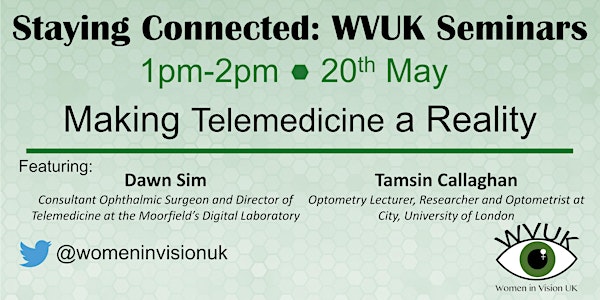 Staying Connected Seminars Presents: Making Telemedicine a Reality
Staying Connected: Women in Vision UK Seminars presents "Making Telemedicine a Reality" with Dawn Sim and Tamsin Callaghan
About this event
Women in Vision UK (WVUK) welcome you to join our series of online webinars, seminars, and meetings to share ideas and keep our growing network virtually connected even when we're physically distanced. Join us for the second event in our series 'Staying Connected: Women in Vision UK Seminars'.
It is vital that we look at different ways of delivering healthcare, given the increasing numbers of patients who need to be seen, and this has been further highlighted by the COVID-19 pandemic. 'Making Telemedicine a Reality' will feature presentations discussing telemedicine and its impact in vision research and in the clinic by:
Dawn Sim, Consultant Ophthalmic Surgeon and Director of Telemedicine at the Moorfield's Digital Laboratory. Dawn's topic will be on An Enabler for Telemedicine and Home-care services in Ophthalmology and the title of her talk will be: "Creating the Department of Digital Medicine".
Tamsin Callaghan, Optometry Lecturer, Researcher and Optometrist at City, University of London. Tamsin's topic will be on Home monitoring of visual fields in glaucoma and the title of her talk will be: "Feasibility of a home-based visual field test (Eyecatcher) for glaucoma home monitoring".
This event is being coordinated by the WVUK Early Career Research Representatives; Bethany Higgins and Samantha de Silva. Follow WVUK on Twitter for regular updates about the seminar series and our other activities @womeninvisionuk
How to join us
Register here! Registration is FREE and is open until 6pm on Tuesday18th May. Shortly after this closing time registrants will receive an email containing the relevant details to access the seminar.
About our Speakers:
Dawn Sim
Dawn is a consultant ophthalmic surgeon specialising in Cataract and Retina at Moorfields Eye Hospital. A former chief resident at Moorfields and Director of Telemedicine at the Moorfields Digital Laboratory.
Born and raised in Singapore, Dawn moved to the UK to read Medicine at St George's Hospital, University of London in 1996. She completed her Ophthalmology residency in the prestigious North London Rotation in 2015 where she also served a Chief Resident at Moorfields Eye Hospital, and Associate College Tutor at the Royal College of Ophthalmologists, and representative at the British Medical Association. In that time, she also obtained her PhD from the UCL Institute of Ophthalmology for her work on endothelial progenitor stem cells and has published extensively on diabetic retinopathy, age-related macular degeneration, and retinal vein occlusions.
Dawn's current research interests include new technology in retinal imaging and the field of teleophthalmology. She is working with device-agnostic platforms to facilitate the acceleration of new technology and artificial intelligence software into clinical practice.
For five consecutive years (2017 to 2021) she has been voted on the Ophthalmologist power-list as one of the top ophthalmologists globally. Her previous awards include the ARVO Alcon Early Career Research Award winner, and Dawn is also a patent holder for the use of Indocyanine Green Dye for visualization of inflammation in the eye. A prolific and successful grant-raiser, Dawn also won the Dermot Pierse Royal Society prize in 2009 and the Young Investigator's Award at Asia ARVO in 2007.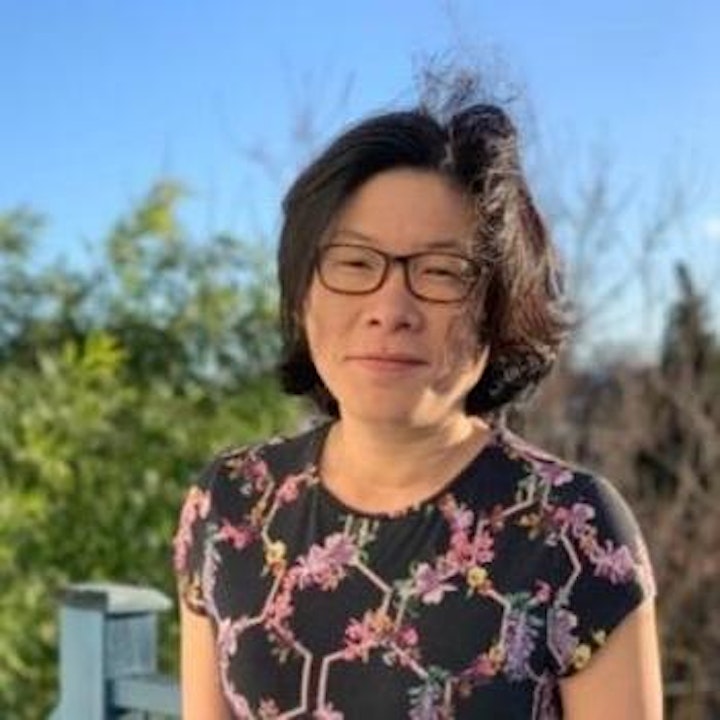 Tamsin Callaghan
Tamsin is a qualified Dispensing Optician and Optometrist with over 18 years of experience in Optometry and is currently a lecturer at City, University of London.After qualifying from Cardiff University with a degree in Optometry, Tamsin returned to Cardiff University to undertake a PhD investigating the role of a lack of oxygen in the development of Age-related Macular Degeneration, and if a lack of oxygen was responsible for the changes seen in dark adapted visual function in this condition.
Tamsin's research and undergraduate and postgraduate teaching have a clinical focus, translating vision research to Eyecare professionals and patients.
Tamsin was the Primary Investigator on the first project to investigate home monitoring in glaucoma and is currently the lead supervisor for a PhD project investigating the impact of practitioner advice about lifestyle modification in age-related macular degeneration.
As a member of the Eyecatcher research team Tamsin is also investigating the development and piloting of Eyecatcher in Nigeria and conducting further feasibly testing of a new version of Eyecatcher in the UK.