About this Event
Whether you STAY:UP solo or as part of a team or a family, the challenge is simple: Tackle your tiredness, fight the fatigue, banish bedtime and whatever you do, don't fall asleep! Get sponsored for your challenge and your one night without sleep could help a local young person to turn their life around. We'll provide interesting and fun content through the night on the hour, every hour, to help you keep awake...
We're running this virtual fundraising event because each night, The Benjamin Foundation provides a safe home and support for over 100 vulnerable local young people aged 16-25. That's over 40,000 safe nights every year. And we need to keep doing this.
Huge thanks to our headline sponsor Clapham & Collinge Solicitors for supporting this event.
Staying Up is the new Sleeping Out
For the last 5 years, we've asked supporters of The Benjamin Foundation to Sleep Out to help our local work to prevent youth homelessness. In 2019 alone, we raised over £110,000, helping local vulnerable young people to take their next steps to leading successful independent lives.
But 2020 is different. As much as we love Sleep Out, with Coronavirus and current guidelines, the events in their usual format aren't possible this year.
That's why for the first time ever, instead of Sleeping Out we're challenging you, our amazing supporters, to STAY:UP to end local youth homelessness! Are you #UpForTheNight?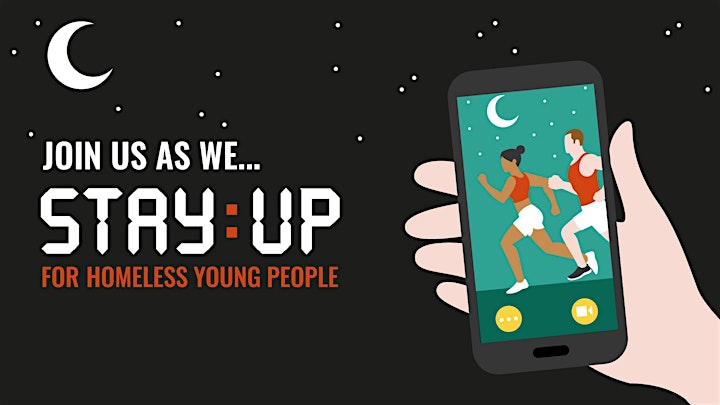 Part of something big
We're proud to be a member charity of End Youth Homelessness – a UK-wide network of charities. With other member charities also Staying Up over the nights of 8th or 9th October, you can be part of a national fundraising event from the comfort of your own home.
You can STAY:UP as an individual, a family or as part of team of friends of colleagues. You can do it your way – as long as you keep safe and follow current social distance guidelines. You only need to purchase one ticket for each household.
On the night
Through the wonder of technology, we'll be connecting with you throughout the night to share content with you and activities to keep you awake and motivated! You'll be able to interact with us and other participants if you wish, take part in games and even learn new skills! You may also want to do your own activities too – maybe exercise, gaming or playing games. Whatever you do, stay safe and tag us on social media.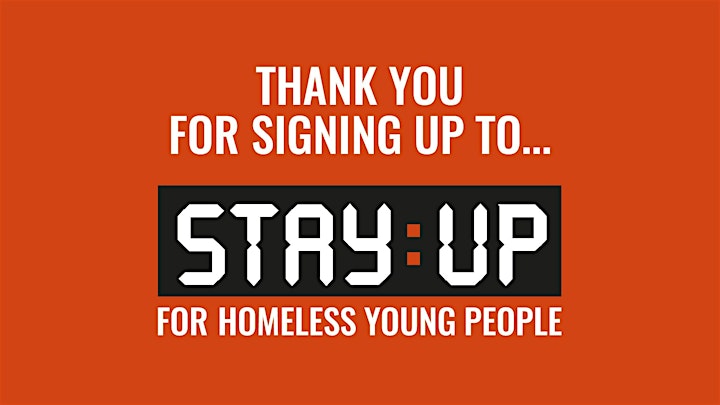 Sign up to stay up
It's easy to take part:
1) Register to take part. It's just £5 per household or bubble.
2) Set up your online fundraising page via Virgin Money Giving
3) Start fundraising!
We'd like each person who Stays Up to aim to raise £100 – but if you can't reach that target, don't worry – every penny you raise helps us to tackle youth homelessness locally. If you reach your £100 target, fantastic – keep going!
Once registered, we will email you a pack with all the information you need about supporting STAY:UP.
Any questions? Just email events@benjaminfoundation.co.uk or call or text 07817 014983.
Terms and Conditions: By purchasing a Household Ticket, you confirm you understand that you are participating in The Benjamin Foundation STAY:UP challenge at your own risk and that you must follow all Government social distancing guidelines and advice regarding Covid-19. You also agree to be responsible for the safety and care of that any persons under the age of 18 who you register to take part.
Date and Time
Location
Refund Policy