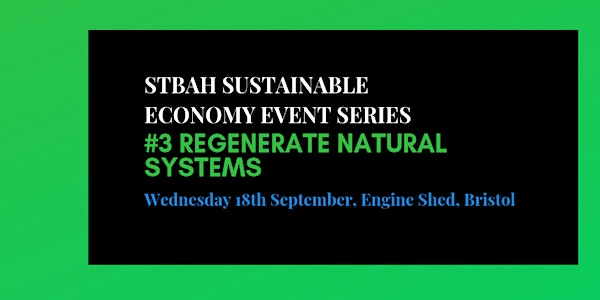 STBAH Sustainable Economy event series: #3 Regenerate Natural Systems
Event Information
Location
Engine Shed
Station Approach
Bristol
BS1 6QH
United Kingdom
Description
The Circular Economy is a framework for an economy that is restorative and regenerative by design. Many organisations are recognising that they need to adopt the transition towards a circular economy.
The Sustainable Technologies Business Acceleration Hub are running a series of events with the aim to stimulate a regional conversation about how we can achieve the 3 principles of a sustainable economy bringing the voices of academics, funders, innovators, SMEs and corporates to the debate.
If you are an SME or start-up interested in biologial cycles; renewable resources or using renewable feedstocks then this event is for you!
You may have a product or service in one of these areas or may simply be curious about how you get your business 'in shape' to contribute to a sustainable economy?
There will be keynote talks, followed by flash presentations from SMEs innovating in new food models, and then a panel discussion, rounded off with the opportunity to network and also to sign up to receive fully funded support for your business through the STBAH programme.
The events will tackle each of the 3 key principles of sustainable (circular) economy.
The first event looked at Designing out Waste & Pollution and the second event looked at how to Keep Products & Materials in Use.
The third and final event in the series will focus on how to:
Regenerate Natural Systems and using Renewable Feedstocks
Agenda (keynotes tbc)
8.00 am: Registration (coffee / tea / pastries / breakfast rolls)

8.15 am: Welcome from the Sustainable Technologies Business Acceleration Hub

8.20 am: Keynote from Prof Matthew Davidson, Director, Centre for Sustainable Chemical Technologies (CSCT), University of Bath:

Bio-based Plastics and the Circular Economy.




8.45 am: Keynote from James McPhail, Commercial Director at Carbon Gold: Carbon-rich soil additives to cool the planet; Carbon Gold has pioneered and commercialised the use of proprietary carbon-rich soil amendments based on biochar – in both organic and conventional markets. Taking waste stream biomass to create products, which offset carbon in an environmentally benign way, directly benefitting adherence to modern environmental, social and governance principles.

9.10 am: Flash Presentations from start-ups who have received business support via the STBAH programme. envoPAP, an end to end paper solutions provider; Naturbeads, who produce biodegradable cellulose microparticles to replace plastic microbeads which are made from renewable and sustainable resources.


9.25 am: Panel Discussion: to include all speakers along with Kevin Dunckley from HH Global.

10.00 am: Networking

10.30 am: Close
Get to know your speakers:
Prof Matthew Davidson, Director, Centre for Sustainable Chemical Technologies, University of Bath: Matthew Davidson established the Centre for Sustainable Chemical Technologies at Bath in 2008 and is currently Director of its EPSRC Centre for Doctoral Training (CDT). He held Lectureships in the Department of Chemistry at Cambridge (1995) and at Durham University (1995-1999) before being appointed to a Chair of Inorganic Chemistry at the University of Bath in 1999. He is a Fellow of the Royal Society of Chemistry and is a previous recipient of the Harrison Memorial Prize of the Royal Society of Chemistry and a Royal Society Industry Fellowship. His major current research interests include: Fundamental Structure and Bonding; Reagents and Catalysts for Organic Transformations; Applications in Sustainable Chemistry.
James MacPhail, Commercial Director, Carbon Gold: Carbon Gold is the world's leading biochar company with a range of Soil Association approved GroChar products which all contain a unique blend of biochar, seaweed, wormcasts and mycorrhizal fungi. James's background is in communications, previously working as Senior Marketing Consultant for BP before leaving to pursue a career with a more environmentally minded business. He joined Carbon Gold in 2012 where he was responsible for creating the Carbon Gold brand. With a master's in agriculture, James has developed wealth of technical knowledge about biochar and the markets Carbon Gold has been establishing worldwide, especially within horticulture, arboriculture and sports turf.
HH Global, Kevin Dunckley: Kevin is Chief Digital and Innovation Officer and a member of the global Executive Board for HH Global. He is responsible for technology, driving innovation, digital brand control programs, and digital strategy for HH Global. Kevin is also responsible for two HH Global Financial Services customers and digital transformation projects for HH Global's client base. Kevin moderates the HH Global innovations group, HH Labs, which he formed in 2009, as well as being the Executive Board sponsor for HH Global's Sustainability and corporate social responsibility programmes.
Kaushal Shah, CEO, envoPAP: envoPAP is a carbon neutral paper supplier in the United Kingdom. Their products are made using sustainable, sugarcane-based natural resources. It is a collaboration of many hearts reaching out to protect and preserve our environment. They embrace sustainability at the core of their business with a commitment towards eco-friendly paper solutions and ethical production across their range.
Giovanna Laudisio, CEO & Co-Founder, Naturbeads: Naturbeads aim is to reduce plastic in our rivers, seas and oceans. They produce biodegradable cellulose microparticles to replace plastic microbeads which are made from renewable and sustainable resources. The aim is to scale up an economic and continuous process for the production of cellulose microbeads to replace plastic beads used in personal care products, wastewater treatment plants and many other applications - following recent investment they are on the path to do this.
This is the final event in this series but please keep an eye out for further events of this nature on the Sustainable Technologies Business Acceleration Hub website,
here
. Alternatively, if you are a sustainable tech company operating in low carbon innovation sign up to our business acceleration programme to receive free business support.

Date and time
Location
Engine Shed
Station Approach
Bristol
BS1 6QH
United Kingdom