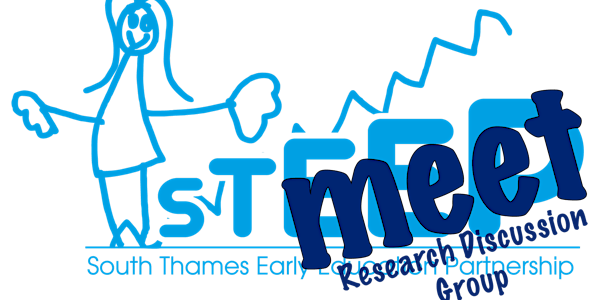 STEEPmeet - (Online) Early Years Research Discussion Group
STEEPmeet - (Online) Research Discussion Group
About this event
STEEPmeet - (Online) Research Discussion Group
Are you interested in reading more about early childhood education?
Keen to meet with like-minded early years practitioners to talk about current research and how it can inform teaching and learning?
Need a prompt to read and digest the educational research you are interested in after a hard day working in the EYFS?
STEEPmeet is a FREE online event for early years professionals wanting to read more about early childhood education - theory - practice - research.
Join us for the STEEP Research Discussion Group -
1. Book your place 
2. Buy, borrow or download the text/ journal chosen for the group to discuss
3. Try and read it before the event so you can take part in the discussion
4. Online meeting details will be sent to you prior to the meeting, so all you need to do is login and take part.
Please note, this event is aimed at those working in the early years. We reserve the right to hold tickets only for those currently working in the early years sector.
Topic for 23 June 2021: TBC
Our session will be facilitated by:
Dr Betty Liebovich, EdD, lecturer in Early Years Education at Goldsmiths University of London. Her research interests include the history of open-air nursery, the work of Margaret and Rachel McMillan, and the history of early childhood teacher education in England and the USA.
Brought to you by STEEP in Partnership with Goldsmiths University of London
Organiser of STEEPmeet - (Online) Early Years Research Discussion Group
STEEP is a partnership of six South London, Nursery Schools and Children's Centres, with a long history of working with children and families.
We believe every child deserves the best possible start in life and support to fulfil their potential. A child's experience in the early years has a major impact on their future life chances. A secure, safe and happy childhood is important in its own right, and provides the foundation for children to make the most of their own abilities and talents as they grow.
STEEP aims to support those working with young children and their families through the provision of a range of high quality professional development opportunities including:
Support and training for Childminders

Initial Teacher Education

CPD for Early Years professionals in schools and settings

Sharing practice and building networks across our learning community