Join Oz Clarke on a discovery tasting of stunning Cabernet Sauvignon from Stellenbosch.
About this event
Join Oz Clarke for this fascinating virtual tasting and taste along with him and as he guides you through a range of Cabernet Sauvignon's from Stellenbosch, one of South Africa's most exciting wine-producing regions.  During the online event, he will be chatting to the winemakers behind each wine and finding out what makes them so special.
South Africa has a long history with Cabernet Sauvignon, both as a varietal and blended wine, and now features on the international wine stage as a star grape of the country, with many of the top wines coming from Stellenbosch. The mountains, well-drained soils with low vigour and oceanic proximity all play a significant role in this success, producing a style that is unique and expressive of the variety.
Oz tasted a wide range of wines especially for this tasting and has selected his six favourites to show off the quality and value of the wines produced in this region.
Let's see if Oz has chosen your next favourite!
Featured Wines:
Laurence Graff Reserve 2017, Delaire Graff Estate
Lady May 2015, Glenelly Estate
Martin Melck Cabernet Sauvignon Family Reserve 2017, Muratie Wine Farm
Waterford Estate Cabernet Sauvignon 2017, Waterford Estate
Kaapzicht Cabernet Sauvignon 2018, Kaapzicht Wine Estate
Kanonkop Kadette Cabernet Sauvignon 2019, Kanonkop Wine Estate
The tasting pack includes a 100ml sample pouch of each of the 6 wines, plus access to the webinar – a Zoom link will be sent to you 24 hours before the tasting.
Price: £35 inc P&P to a mainland UK address
Or, if you just fancy logging in without the wines, webinar access only is £10 per device.
There are only a very limited number of tasting packs available for this tasting so book early to avoid disappointment.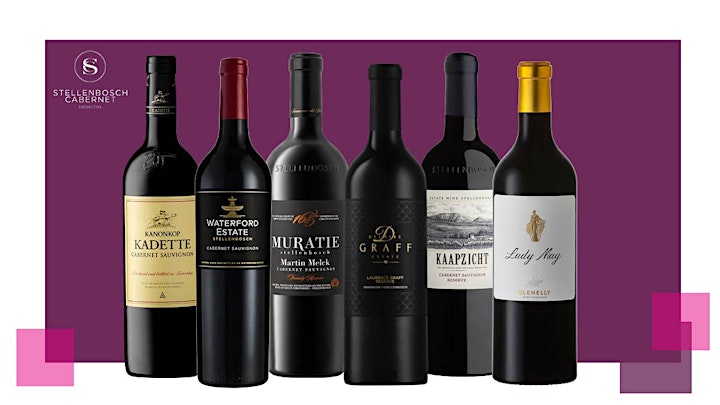 Organiser of Stellenbosch Cabernet Discovery Tasting with Oz Clarke
Three Wine Men are three great mates who love wine and want to share it with the world!  You will know them from the tv – Oz Clarke (the one who managed to get James May to move from beer to wine), Tim Atkin MW (recently named the 5th most influential wine expert in the world) and Olly Smith (aka Jolly Olly from BBC's Saturday Kitchen). Now you can meet them in the flesh and come and taste with them.
If you're new to wine and you have never been to a tasting, they want you here.  They will point you in the direction of some top tipples to taste and start you on the road to vinous pleasure.  If you are passionate about wine and cannot wait to share the next drop at a dinner party they want you to come and find something new and exciting.  If wine is important to you they want to show you the stuff you never knew existed.  It doesn't matter if you're an expert, an enthusiast or just enjoy the occasional slurp – when you arrive just grab a glass and join in.
These events give you the chance to taste wines of every type and every style all under one roof.  There's red wine, white wine, rose wine, sparkling wine, sweet wine, natural wine, organic wine.  Whatever your taste we will find something to thrill you from your tongue to your toes. For the price of ticket you have an unlimited chance to taste hundreds of wines in one session.  As Oz Clarke says 'If you can do that you are a better person than me!'
You can buy too and many of the exhibitors will have special show offers so you can save money while stocking up the wine rack.
Wine is Oz, Tim and Olly's passion and they want to share it with you!  So get ready to dip yourself in deliciousness.