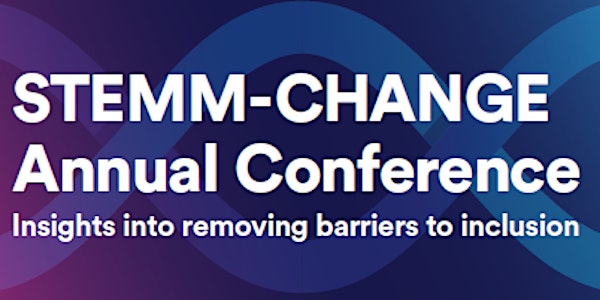 STEMM-CHANGE Annual Conference
Location
Royal Society Of Chemistry
Burlington House
Piccadilly
London
W1J 0BA
United Kingdom
Insights into removing barriers to inclusion
About this event
Hear from influential thought leaders and to engage with a range of EPSRC Inclusion Matters projects.
09:00 - 16:00 followed by a drinks reception, where STEMM-CHANGE and collaborators will launch a report entitled 'Equality, Diversity & Inclusion: A Technician Lens' until 18:00.
For any queries please contact Lucy Williams, Inclusion Matters Project Officer.
lucy.williams@nottingham.ac.uk
0115 748 7411
www.stemm-change.co.uk
Please note that registration will close on Monday 4 November at 16:00.
Conference programme
9am: Registration and refreshments
9.30am: EPSRC welcome
10.15am: Keynote - Dr Hayaatun Sillem, Royal Academy of Engineering
11am: Break
11.15am: The STEMM-CHANGE journey
12pm: Lunch and networking
12.45pm: STEMM-CHANGE showcase
1.45pm: Keynote - Dr Dominic Galliano, UCL
2.30pm: Break
2.45pm: EPSRC Inclusion Matters Project Presentations
3.45pm: Close
4pm: Drinks reception
4.30pm: Report launch - Equality, Diversity & Inclusion: A Technician Lens
(further details here: https://www.eventbrite.co.uk/e/equality-diversity-inclusion-a-technician-lens-report-launch-tickets-75858349365)
6pm: Close