STEP Guernsey/EPP Event - Business Impact & Recovery - COVID style
About this Event
Susie Crowder, Human Capital Advisory Director for Grant Thornton, will share with attendees findings from the Post COVID 19 Impact Report, commissioned by Grant Thornton during the government imposed lockdown. This rich data, collected from over 500 respondents, highlights the impact on employee wellbeing, the varying short/long term financial implications and the future of corporate culture in a remote working world.
This insightful seminar will provide an insight into the post COVID 19 world of work to aid managers and leaders with some practical tools to consider using as the return to work, life and play continues.
Attendees will receive a copy of the report and will have the opportunity to ask any questions.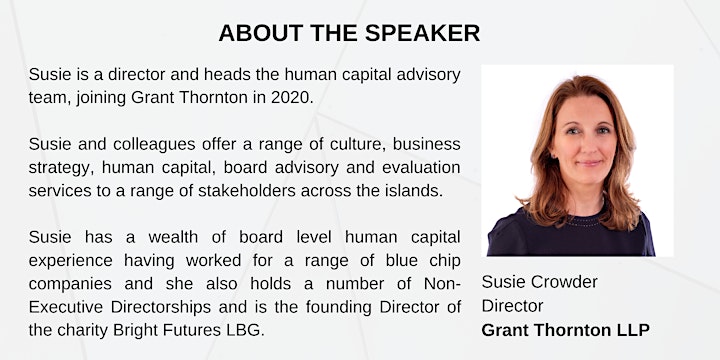 STEP Employer Partnership Programme
Jenni Hutchinson, head of STEP's Employer Partnership Programme will deliver a short presentation about their own survey findings, having recently spoken to 33 of the STEP employer partners to discuss with them the impact of COVID-19 on their businesses and how they saw the future. This covered a number of jurisdictions (including Guernsey).
The STEP Employer Partnership Programme (EPP) was established in 2014 when members identified that they wanted the TEP designation to be seen as career essential by their employers.
STEP recognised then that establishing close relationships with STEP employers would enable us to support the professional development of our members and build upon the credibility of the STEP brand by:
Providing a comprehensive and structured support programme with access to a wide range of online resources and personal support from the EPP team;
Promoting industry wide recognition of the STEP accreditation, thus helping accredited partners to demonstrate their credentials as quality employers;
Enabling accredited partners to network and share good practice with like-minded employers.
Achieving STEP EPP accreditation publicises to the wealth planning industry the employer's commitment to their staff and helps provide the best service to clients.
The Programme is offered across three accreditation levels: Employer Partner; Gold Employer Partner; and Platinum Employer Partner.