About this Event
Step Up!
Webinars and resources for music education
Enrich your teaching, or your music programme, by taking part in Step Up!, Drake Music's 3 month scheme of learning and development for music education professionals.
For the second webinar in the series, we present 'Career Development for Music Leaders', where two organisations will bring together their ideas and approaches on training Disabled and non-disabled musicians to work in inclusive music education settings.
Drake Music, leaders in music, disability and technology and Live Music Now, the leading musicians development and participatory organisation, will speak and lead a discussion on developing an existing workforce and developing disabled musicians.
Suitable For:
Musicians from any musical background who are interested in developing skills in music leading and participation
Organisations who deliver music projects or are interested in developing their workforce
Peripatetic teachers
Those interested in the LMN Inspire training program
Booking your place:
To sign up, please click the green REGISTER button on the right hand side of this page.
Joining information:
On the week of the webinar, you will be sent a join link and further information on how to participate.
It is an online webinar on the platform Zoom, which you will be able to access remotely from your phone or computer.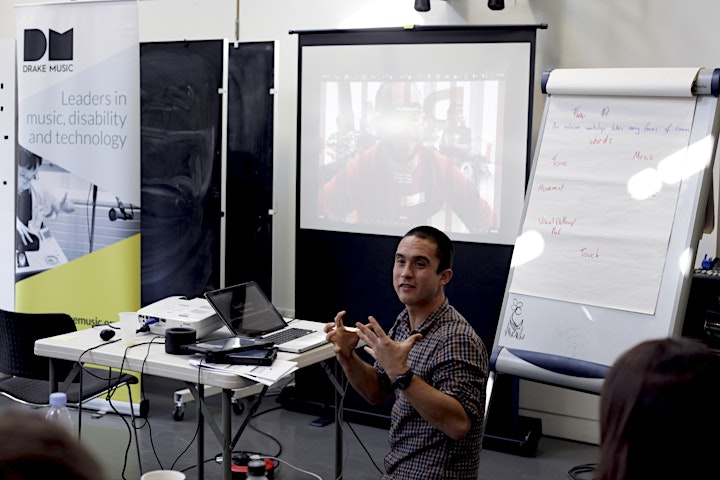 More about Step Up!
Each month from January to March 2020 will see the DM Think22 team host a webinar on hot topics in music education, as well as sharing provocations, how-to-guides and other resources to support teachers, music leaders and music hub staff.
The free Step Up! programme will support the music education sector with free webinars on:
Inclusion – the big ideas
Career development for music leaders
Getting the best out of iPads for music
The webinars will be accompanied by a free online resource released in advance on the Drake Music website.
Get in gear in the new year and get your music programme 2020 ready!