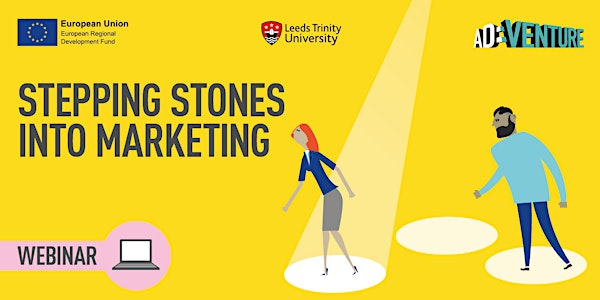 Stepping Stones into Marketing (beginners), Wednesday 19 January 2022
Stepping Stones into Marketing (beginners)
About this event
Please note, you can only attend the workshop if you are a UK resident and live or work in the Leeds City Region, this includes Leeds, Bradford, Calderdale, Craven, Kirklees, Wakefield, York, Harrogate and Selby.
Stepping Stones into Marketing with Gaynor Cross
Wednesday 19 January 2022, 11:30 am-1:30 pm
Are you flummoxed by Facebook, exasperated with email marketing or done in with data? Attend this short session to gain an understanding of some basic marketing frameworks and hands-on experience of some marketing tools and techniques.
This session provides an introduction to the key concepts of marketing including unique selling points, customer-centred service proposition and communication channels. It is suitable for those with some previous experience of marketing who are looking to refresh their knowledge as well as absolute beginners.
By the end of this session, delegates will have gained an understanding of the key concepts of marketing. They will understand the relevance of marketing to their organisation – or their role - and be ready to implement their learning into practice.
Gaynor Cross – Marketing Teacher at Leeds Trinity University
Gaynor has over 15 years' marketing experience spanning the public, private and not-for-profit sectors and covering both on and off-line marketing techniques. Gaynor assists organisations with their marketing strategies to generate new business and utilise income streams. Gaynor teaches Marketing modules at undergraduate, postgraduate and professional qualification levels.
When?
Wednesday, 19 January
11:45 - 12.00 Registration and start
12:00 - 1:00 Workshop commences
1:00 - 1:30 Q&A session and finish
Where?
This session will be delivered remotely through Microsoft Teams.
How to book
Please register for a place if you are a business under three years old with a desire to grow and employ people in the Leeds City Region. Ad:Venture is focused on supporting new and high-growth businesses. You will be asked to complete a Company Record form before you attend. If you are eligible for these workshops, we will contact you to confirm your place.
To book click on 'Register now' above.
Leeds Trinity University is proud to be part of Ad:Venture; a business support programme aimed at helping businesses in the Leeds City Region with real growth potential to achieve their ambitions. We are looking to support businesses that have ambitions to grow and create jobs. The project is supported by the 2014 to 2022 European Regional Development Fund Programme.
If you have any questions, or for any further information, please contact Louise Miller, l.miller@leedstrinity.ac.uk, Ad:Venture Project Manager at Leeds Trinity University.