Description
The STFC Food Network+ (SFN) will be holding their Launch Meeting at the University of Manchester on the 28th and 29th June.
The meeting is free to attend, we just ask that you register your details here so that we can plan accordingly.
The event will consist of a series of talks by expert speakers on topics spanning the STFC and Agri-Food sectors along with interactive sessions and networking opportunities.
You can find .pdf copies of our provisional agenda and speaker biographies here and our agenda in brief as follows: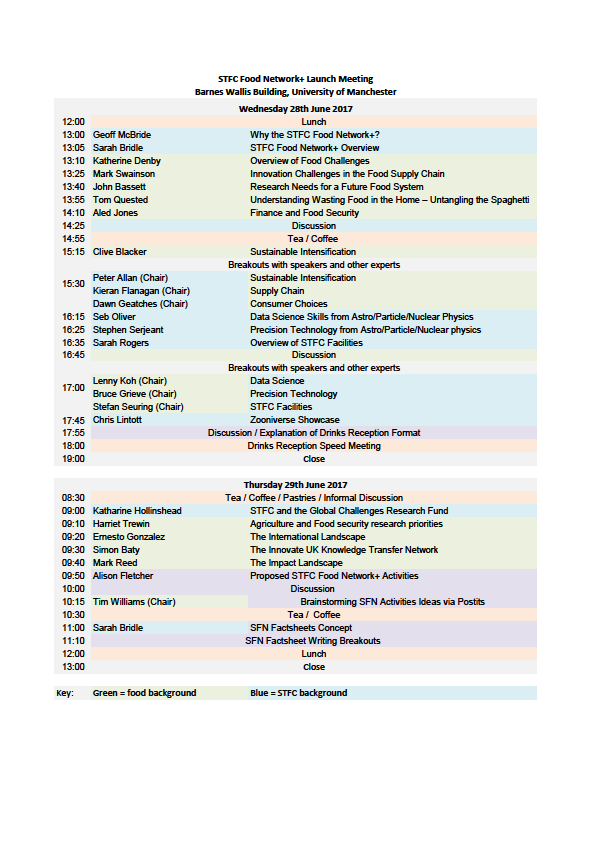 ---
Please note that registration for this event closes on Friday 23rd June
---
The Meeting will be held in the Barnes Wallis Building at the University of Manchester - Number 9 on our Campus Map - If you are driving we reccommend that you park in car park A and if you will be using public transport you can find clear directions here. We will send out further directions to the specific meeting room to all attendees nearer the time.
---
Further information about the SFN:
The Science and Technologies Facilities Council (STFC) is funding the SFN in order to bring together STFC researchers and facilities with research and industry in the agri-food sector. The SFN will build an interdisciplinary community working to provide a sustainable, secure supply of safe, nutritious, and affordable high-quality food using less land, with reduced inputs, and in the context of global climate change and declining natural resources. The SFN will highlight and develop key opportunities for the STFC community to make a meaningful contribution to the food system - from sustainable intensification, through building resilience in supply chains to novel technologies to engage consumers and help change behaviour and improve nutrition. ​