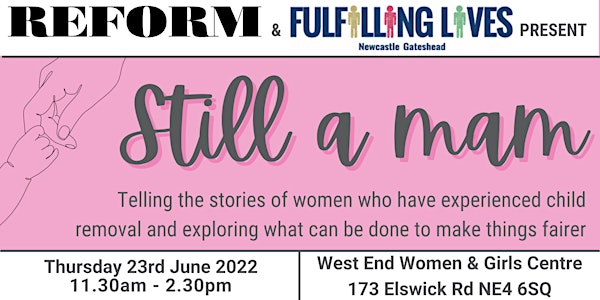 'Still A Mam' - life stories of women who have experienced child removal
Location
West End Women & Girls Centre
173 Elswick Road
Newcastle upon Tyne
NE4 6SQ
United Kingdom
'Still a Mam' research about women's experiences of child removal - dissemination event.
About this event
We will be presenting the findings from our research into the experience of child removal as told by the mothers. We will be sharing their stories and looking at what changes we think need to be made to make the system fairer and support the women and children better.
Guest Speakers
We are delighted to welcome three incredible guest speakers who will be sharing their insights into these issues:
Cris McCurley is a Partner at Ben Hoare Bell LLP, practicing in Family Law and specialising in Childcare and International Family Law.
Her work, both in the UK and Internationally, focuses on supporting women and children from all backgrounds to access justice. Cris has specialist knowledge of Gender Equality, Domestic Violence, Honour Based Violence (HBV), Forced Marriage (FM), Abduction, Trafficking, Female Genital Mutilation (FGM) and 21st century slavery. She also has experience of working with child sexual exploitation and radicalisation.
Cris is also a member of a number of specialist advisory groups and professional panels including the National Domestic abuse panel of Resolution and the BME women's Domestic Violence Network.
Cris has written numerous articles and blogs about child protection, family court processes and legal aid; she is a regular feature writer for the Solicitor's Journal and Resolution, and a guest lecturer at Sunderland University and Northumbria University on Human Rights, FM/HBV.
Twitter: @CrisMcCurley
Karen Broadhurst is a Professor of Social Work at Lancaster University with over 25 years experience in research focused on child and family justice.
Karen currently serves as expert advisor to the Independent Review of Children's Social Care, the Archbishops' Commission on Families and Households and the HMCTS court reform programme and recently served as advisor to the President of the Family Division's Public Law Working Group.
Karen also co-directs Lancaster University's interdisciplinary Data Science Intitute, reflecting her expertise in the safe and ethical use of controlled data for social research. She co-chairs the University's management board which is overseeing the development of a secure data science infrastructure.
In 2015, Karen established the Centre for Child and Family Justice Research, which is an interdisciplinary research centre working in close collaboration with policy and practice partners. The Centre is home to researchers, national and international doctoral students and visitors.
Twitter: @KarenB_LU
Dr Lisa Morriss is a Lecturer in the Sociology Department at Lancaster University. Her interests include mental health, social futures, motherhood, stigma, and ethnomethodology.
Lisa developed the concept of 'haunted motherhood' after her experiences as a researcher in the archives of the Family Court. She has published work on haunted futures in Imogen Tyler and Tom Slater's Sociological Review Monograph on Stigma; and has talked about her experiences in the archives on the BBC 4 radio show Thinking Allowed in the episode on Stigma.
Her recent project, Marking Motherhood, explored the inscription of tattoos with 8 mothers who live apart from their children. The tattoo is a way of embodying motherhood; keeping their children with them - etched in their skin - until reunification. The intimacy of tattooing your children on your body can be seen as a way of challenging the silencing that stigma brings; and enabling the telling of alternative stories.
Twitter: @MorrissLisa
Who is this event for?
If you are a practitioner in the North East working with women facing child removal and want to be involved in making the change, please join us on 23rd June.
NB. This is an IN PERSON event. We are holding it at West End Women & Girls Centre which we will host as no more that 60% occupancy for the room size allowing for social distancing of your choosing. We will not be enforcing the wearing of face masks but please bring one if it makes you feel more comfortable.
If you have any questions about the research or this event, please email beverley.hunter@fulfillinglives-ng.org.uk